Product Description

Brand Authenticity

Warranty

Shipping

Returns
Safe from Contamination

Keep Your Belongings Safe from Contamination
Dedicated to keeping your personal daily belongings contamination-free such as smartphones, Galaxy buds 
Destroys Harmful Bacteria
UV sterilizer has been tested and proven by 3rd party laboratories to effectively kill up to 99% of bacteria* within 10 minutes.
*Including Escherichia coli, Staphylococcus, Candida albicans.
Wireless Charging
UV Sterilize and Wireless Charge your device at the same time.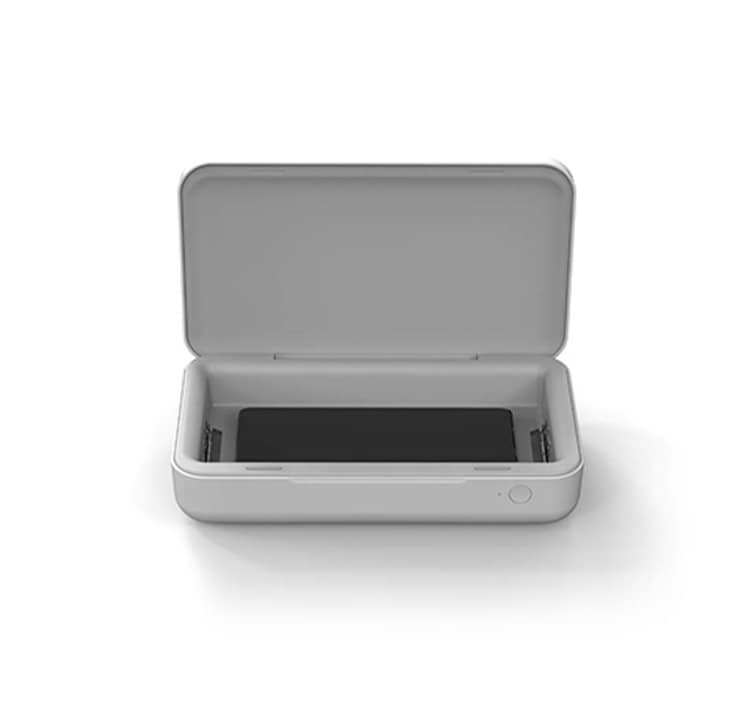 *Charging does not stop when UV sterilization turns off.
Smooth Magnetic Cover
The magnetic cover gives airtight closure and a stable feel when opening/closing the case. The soft free-angle hinge and rubber stopper presents a smooth touch to the user.
Sterilize Anything That Fits
* Shown only for representation purposes. Package includes only UV Sterilizer.
Intuitive Design
Simply close the lid and press the power button to disinfect for 10 minutes. Sterilization will stop automatically when the lid is open to ensure safety.
* For effective sterilization, it is recommended to sterilize one side and then flip over and sterilize the other side.* When flipped over, wireless charging is not possible.
Tested sterilization efficiency
Up to 99% sterilization effect. Tested by two independent certification companies, Intertek and SGS!UV-C light kills up to 99% of harmful germs and bacteria, such as E.coli, Staphylococcus, and Candida albicans.
* Areas of the item that are not exposed to the UV light will not be disinfected.* Level of disinfection may vary by area of the item depending on various factors such as UV exposure time, length of UV light to reach surface of item, and others.* Disinfection level at the bottom surface of item is lower than other areas.* For effective sterilization, it is recommended to sterilize one side and then flip over and sterilize the other side.
Smooth & Elegant
During sterilization, the magnetic cover keeps the sterilizer sealed, giving stability to users, while the rubber stopper cushions the impact and buffers noise when opening and closing the case.
Supports wireless charging
UV Sterilizer with Wireless Charging utilizes Qi wireless technology to fast-charge your smartphone. Compatible with the latest iOS and Android devices that support wireless charging. To ensure safety, your phone is sterilized only when the lid is closed.
* For effective sterilization, it is recommended to sterilize one side and then flip over and sterilize the other side.* Wireless charging not supported for smart watches.* Wireless charging not supported if the mobile phone is placed with the touch screen facing down.
Sterilize your daily items
Kill germs not only on your smartphone but also various items, such as glasses and accessories. Keep your items clean with this multipurpose device.
Get easy connection by single USB Type-C port
Use the USB type-C cable to connect UV sterilizer with the power adapter.
Blends in anywhere
Simple but stylish design. The soft color and smooth design blends in anywhere in the office or at home.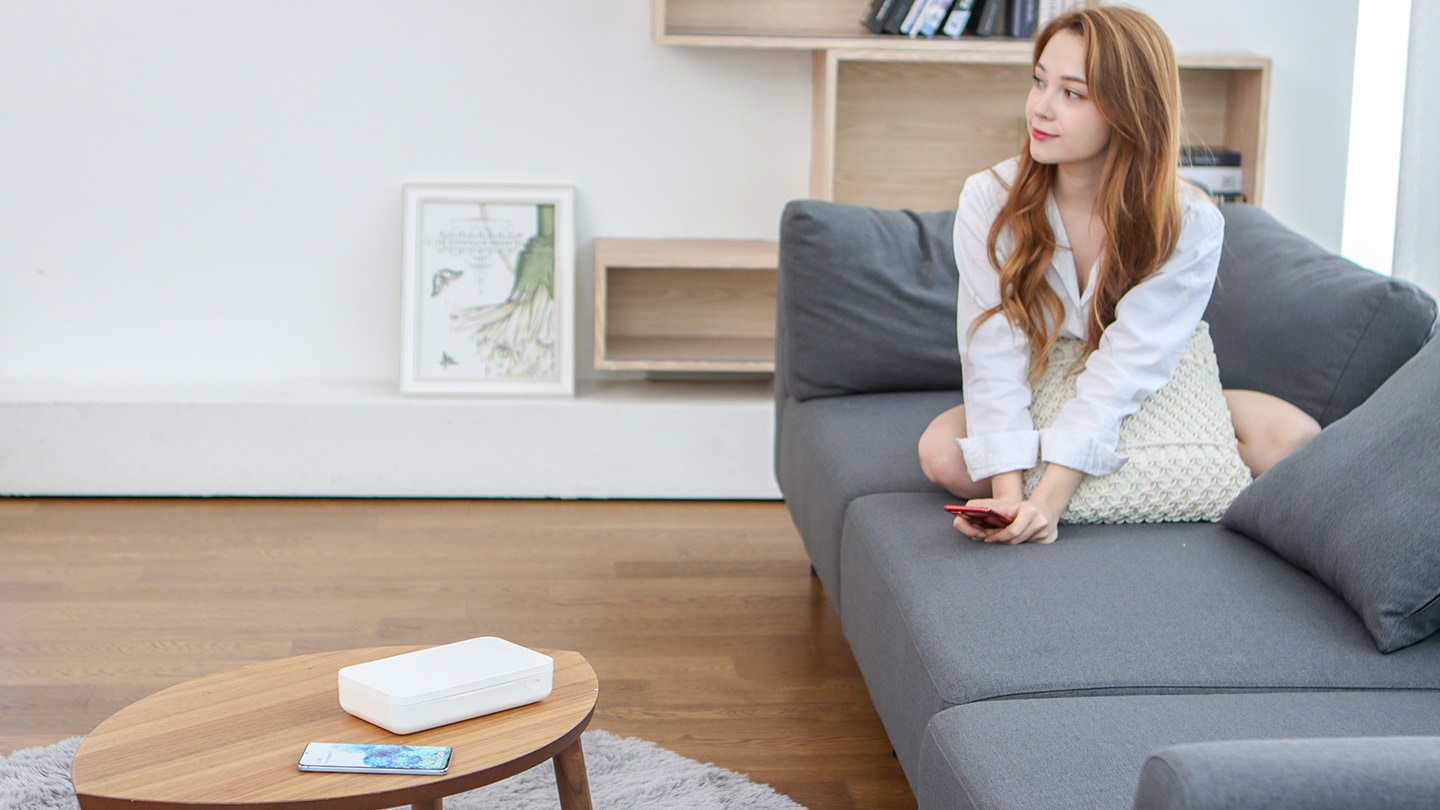 Dimensions
Contents
UV Sterilizer with Wireless Charging
USB Type-C Cable
User Manual
Warranty
3 months manufacturer warranty. Warranty doesn't cover regular wear and tear, breakage or fading of the product as it is a consumable item and depends on personal usage patterns.
Imported & Marketed By
Samsung India Electronics Pvt. Ltd.
having its Corporate Office at:
6th Floor, DLF Centre, Sansad Marg,
New Delhi - 110001 
Country of Origin
India, Vietnam, China, Korea
*Country of origin shall be as mentioned on the Product
100% original products
South Port is an authorised brand partner of Samsung India. The company is a flagship store partner and also an exclusive partner of Samsung India Electronics for mobile business and accessories.
How some accessories not available even on Samsung stores are listed with you?
South Port being the largest stocking partner of Samsung accessories in India. We stock accessories ourselves at our own cost. So there is likely a better chance of the product still in stock with us till the last of it gets sold anywhere.
All the products sold on South Port are 100% genuine & authentic which are sourced only from Samsung India authorised sales channels and they are supplied to you with proper brand warranty and GST invoices. We do not import anything ourselves.
PS: No grey stocks here. You will only receive products marketed officialy by Samsung India Electronics and meant for sale in the Indian subcontinent.
Who should I contact if I have any questions about products or your services?
You can get in touch with our team anytime between 11:00 AM to 9:00 PM, Monday to Saturday.
WhatsApp Us +91-9899740474
Call Us 1800119777 TOLL FREE
Write To Us at support@southport.in
We usually respond to calls & chat queries with in minutes, emails with in 24 hours. For any assistance required storewide, you can start a chat with us from the chat handle available on the right hand side below corner.
What is the Warranty Policy
Samsung provides warranty for each of its product only from their authorised care centers which are located all over the country. You can locate a service center by calling Samsung customer service at 1800-40-7267864.
Please note that the warranty on products sold on this website is valid only in India except Notebooks which carry international warranty. There are different periods of warrant offered for different types of items and they are mentioned separately on each of the product pages.
For the full warranty policy, please click here.
100% secured and traceable packages
We ship only through worldwide trusted courier partners using express shipping methods as standard for all the orders unless & otherwise there is any specific shipping constraint for any type of product.
Courier partners on our panel
Bluedart, Delhivery, XpressBees, Ecom Express, Amazon, Ekart, DTDC, Gati, Professional, Pidge, WeFast & Dunzo.
What is the shipping cost?
We provide Free Shipping on all orders which are of Rs.1000 value & above. Its our continuous endevour to provide you the best services which are at par to the ecommerce industry standards. So we imply a small operational delivery charge of Rs. 100 to the orders if they are below Rs. 1000 cart value.
Why do you apply shipping cost to small orders?
We apply this charge to keep going with our top standards of shipping without any compromise. We never wish to reduce our service levels for just a fraction of cost which our customers expect from us. Our customers understand well this is just a small amount for the world of services they get in return.
How long does it take to get my order delivered?
We ship orders mostly in 24 hours of receiving them. we opt the best and fastest serving couriers for your order. Once they are dispatched from our facility, our couriers usually take 1-3 days only to deliver to most pin codes across India. But sometimes it depends on the serviceability of your pin code or how deep the location is to reach, basis on any local variations it may take slight more time and max up to 7 days. Any local disturbances in your area may lead to delays in shipments but we will always keep in touch and you will be well informed for any such unforeseen delays beforehand. South Port offers various delivery speeds on special urgent requests also whereever possible like same day and guranteed 1-2 days. Please get in touch with us in case you wish to opt for that.
How do I track my order?
To track your order, please click here.
Enter the details like Order ID, Email ID, Phone Number or Tracking Number etc to track your order status.
Alternatively, you can login to your SouthPort account and check the status of the order from there. Once your order ships, you will receive a shipping notification that includes tracking information on your email ID, mobile SMS and WhatsApp. You can track your shipment through that also or you may also contact the carrier using that information.
Do you ship internationally ?
Unfortunately, we do not ship internationally at the moment. However, we are in the process of starting overseas delivery soon.
Do you provide COD?
We usually do not offer cash on delivery as standard option on our website. You can make payments using almost all types of prepaid methods like Credit/Debit Card, EMI, Net Banking, PayTM, PayPal, UPI, Google Pay, Amazon Pay, PhonePe, Wallets & Pay Later. But if you do not have any prepaid method to carry out the transaction, then we can provide you with partial COD option on request. In this you make a partial small payment while placing the order as advance and the balance payment you make to the delivery partner as COD. This is done to weed out non serious buyers. Contact us to opt for this option.
What is the return period?
We accept returns with 7 days of the order delivery provided the product is not used and is in restockable condition. By restockable we mean that the seal of the product is expected not to be opened at all. All our products are 100% original so we cannot accept returns for item which are even slighly opened because their originality can be compromised and that's what our customer is trusting us for. We value our customer's trust on us more than anything.
What is the Cancellation Policy
For cancellation of items from southport.in, please click here.
What is the Return Policy
For return of items from southport.in, please click here.
Trusted Payment Methods
Customer Reviews
04/06/2021
Anubhav

India
Useful in Covid-19
I saw it first in a Samsung Cafe and decided to purchase from here later when I saw it. In the time of corona, it is quite handy to have a sterilizer at home and office which can protect you from device germs. It kills harmful bacteria with UV sterilizing and also wireless charges your phone. Sterilize anything which literally fits - phone, keys, credit cards, specs, buds, rings, tags etc. Don't expect wireless charging to be very fast, it is normal wireless charging as it is a sterilizer in the first place and charging is and additional secondary feature.