Safe from Contamination

Keep Your Belongings Safe from Contamination
Dedicated to keeping your personal daily belongings contamination-free such as smartphones, Galaxy buds 
Destroys Harmful Bacteria
UV sterilizer has been tested and proven by 3rd party laboratories to effectively kill up to 99% of bacteria* within 10 minutes.
*Including Escherichia coli, Staphylococcus, Candida albicans.
Wireless Charging
UV Sterilize and Wireless Charge your device at the same time.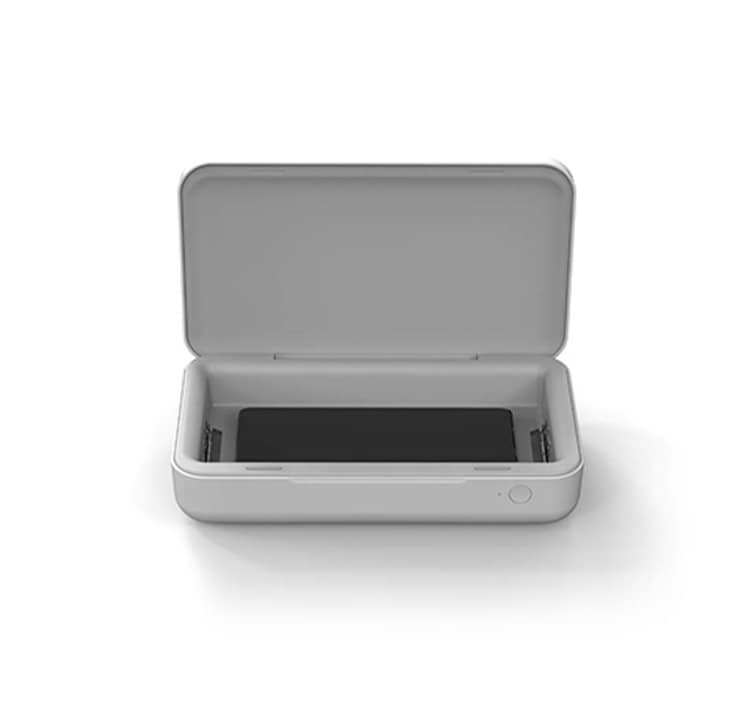 *Charging does not stop when UV sterilization turns off.
Smooth Magnetic Cover
The magnetic cover gives airtight closure and a stable feel when opening/closing the case. The soft free-angle hinge and rubber stopper presents a smooth touch to the user.
Sterilize Anything That Fits
* Shown only for representation purposes. Package includes only UV Sterilizer.
Intuitive Design
Simply close the lid and press the power button to disinfect for 10 minutes. Sterilization will stop automatically when the lid is open to ensure safety.
* For effective sterilization, it is recommended to sterilize one side and then flip over and sterilize the other side.* When flipped over, wireless charging is not possible.
Tested sterilization efficiency
Up to 99% sterilization effect. Tested by two independent certification companies, Intertek and SGS!UV-C light kills up to 99% of harmful germs and bacteria, such as E.coli, Staphylococcus, and Candida albicans.
* Areas of the item that are not exposed to the UV light will not be disinfected.* Level of disinfection may vary by area of the item depending on various factors such as UV exposure time, length of UV light to reach surface of item, and others.* Disinfection level at the bottom surface of item is lower than other areas.* For effective sterilization, it is recommended to sterilize one side and then flip over and sterilize the other side.
Smooth & Elegant
During sterilization, the magnetic cover keeps the sterilizer sealed, giving stability to users, while the rubber stopper cushions the impact and buffers noise when opening and closing the case.
Supports wireless charging
UV Sterilizer with Wireless Charging utilizes Qi wireless technology to fast-charge your smartphone. Compatible with the latest iOS and Android devices that support wireless charging. To ensure safety, your phone is sterilized only when the lid is closed.
* For effective sterilization, it is recommended to sterilize one side and then flip over and sterilize the other side.* Wireless charging not supported for smart watches.* Wireless charging not supported if the mobile phone is placed with the touch screen facing down.
Sterilize your daily items
Kill germs not only on your smartphone but also various items, such as glasses and accessories. Keep your items clean with this multipurpose device.
Get easy connection by single USB Type-C port
Use the USB type-C cable to connect UV sterilizer with the power adapter.
Blends in anywhere
Simple but stylish design. The soft color and smooth design blends in anywhere in the office or at home.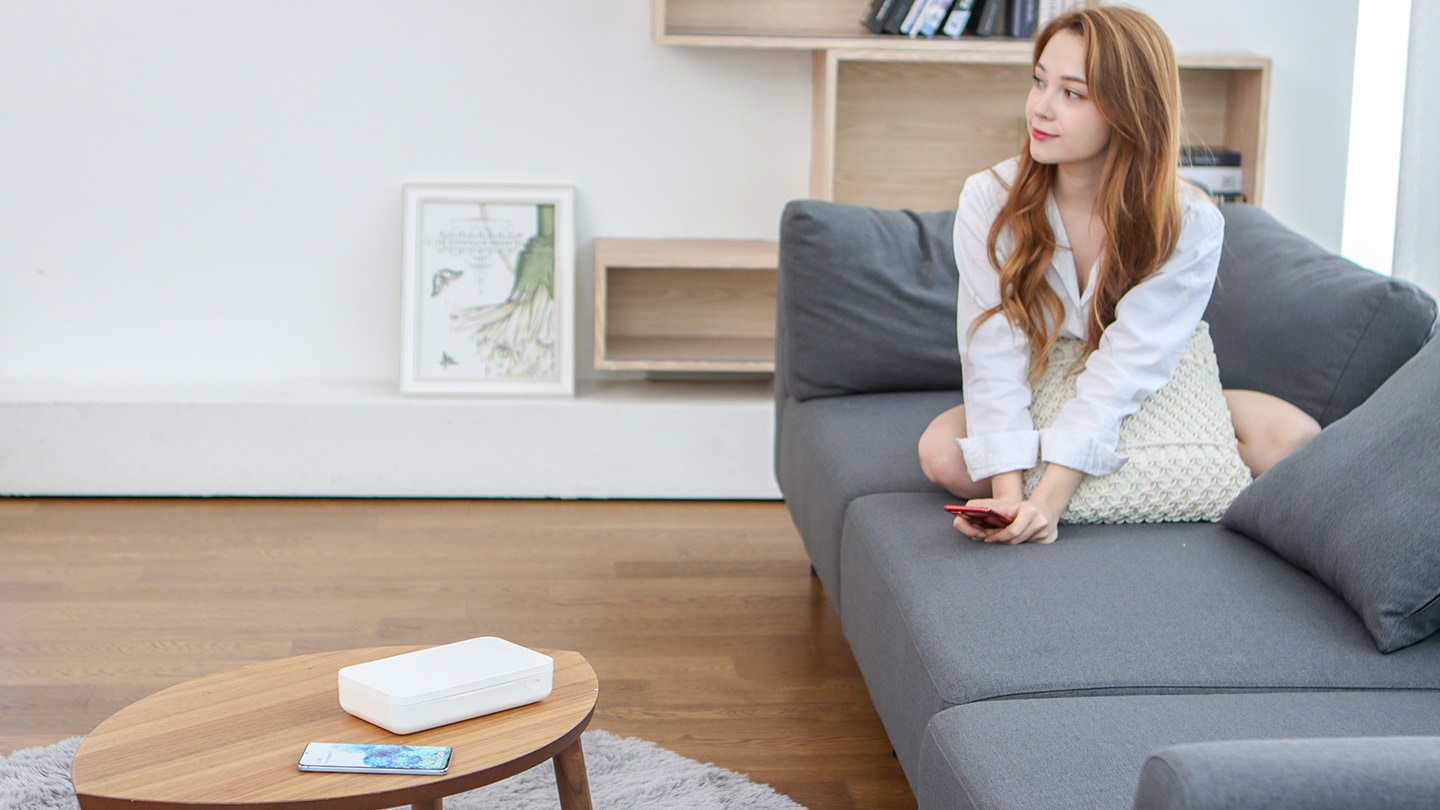 Dimensions
Contents
UV Sterilizer with Wireless Charging
USB Type-C Cable
User Manual
Warranty
6 months manufacturer warranty. Warranty doesn't cover regular wear and tear, breakage or fading of the product as it is a consumable item and depends on personal usage patterns.
Imported & Marketed By
Samsung India Electronics Pvt. Ltd.
having its Corporate Office at:
6th Floor, DLF Centre, Sansad Marg,
New Delhi - 110001 
Country of Origin
India, Vietnam, China, Korea
*Country of origin shall be as mentioned on the Product
Trusted Payment Methods
Customer Reviews
04/06/2021
Anubhav

India
Useful in Covid-19
I saw it first in a Samsung Cafe and decided to purchase from here later when I saw it. In the time of corona, it is quite handy to have a sterilizer at home and office which can protect you from device germs. It kills harmful bacteria with UV sterilizing and also wireless charges your phone. Sterilize anything which literally fits - phone, keys, credit cards, specs, buds, rings, tags etc. Don't expect wireless charging to be very fast, it is normal wireless charging as it is a sterilizer in the first place and charging is and additional secondary feature.