Product Description

Brand Authenticity

Warranty

Shipping

Returns
JBL Playlist speakers have Chromecast built-in, so you can instantly cast music from your favourite music app, radio, or podcast to your speaker using your smart device. You can control the speakers from anywhere in the house on your iOS or Android device(s) in the house on your device(s) -- iPhone, iPad, Android phone or tablet, Mac or Windows laptop, or Chromebook.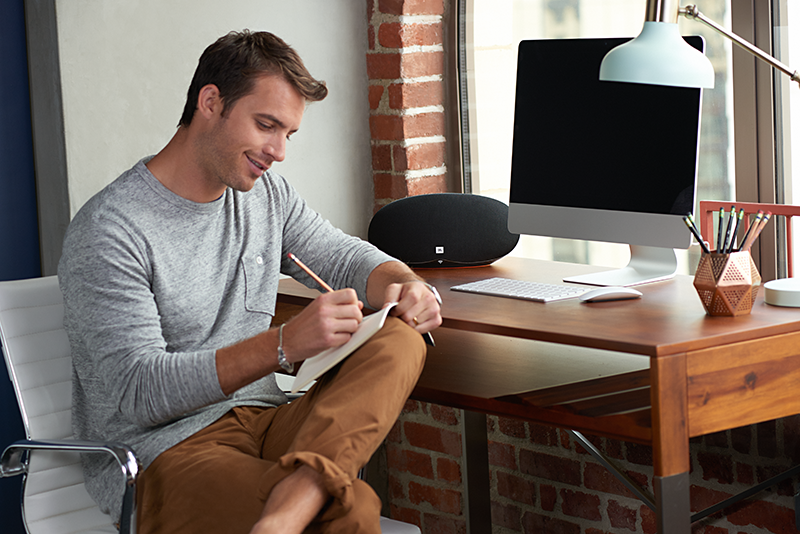 Easily cast music to your speakers
With Chromecast built-in, just tap the Cast button from your favorite mobile music apps to instantly start playing on the speakers. Then control the speakers right from your phone -- search, play, pause, and turn up the volume -- anywhere in the house.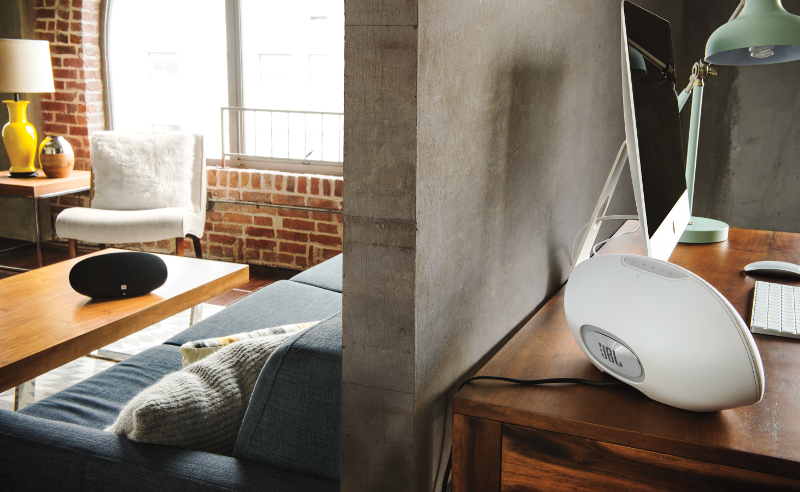 Listen to your favorites, anytime
Choose from millions of songs from popular music services like Spotify, Pandora, Google Play™ Music, TuneIn and iHeartRadio or catch up on current events with NPR podcasts. New apps are constantly being added so there's no end to the music, online radio stations, and podcasts you can enjoy. Discover more at https://www.google.com/cast/apps/.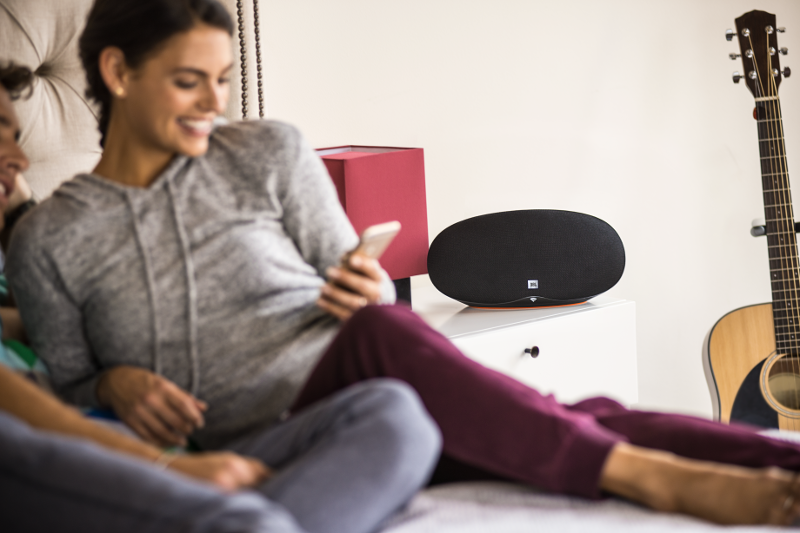 Spotify Connect, a better way to listen at home
Play Spotify through your speakers, laptop and TV, using the Spotify app as a remote. Use the "One Touch" Play feature on the Playlist speaker to play your favorite playlist instantly.
Colours
Features
Easily cast music to your speakers
Listen to your favorites, anytime
Spotify Connect, a better way to listen at home
24bit/96kHz High quality sound, powered by the cloud
Enjoy your music without interruption
Simple setup and multi-room control with the Google Home app
Dual band Wi-Fi connection network support
Music playback via Bluetooth or 3.5mm input
Wi-Fi Enabled
Chromecast
Spotify Music
Warranty
12 months manufacturer warranty.
Manufactured by
Harman International Industries
Inc. 8500, Balboa Blvd,
Northridge, CA 91329,USA
Imported By
Harman International (India) Pvt. Ltd., Prestige Tech Park, 4th Floor-Jupitar 2A, Marathahalli Ring Road, Bangalore-560103, Karnataka, India

Marketed By
Samsung India Electronics Pvt. Ltd.
having its Corporate Office at:
6th Floor, DLF Centre, Sansad Marg,
New Delhi - 110001
Country of Origin
India, China, USA
*Country of origin shall be as mentioned on the Product
100% original products
South Port is an authorised brand partner of Samsung India. The company is a flagship store partner and also an exclusive partner of Samsung India Electronics for mobile business and accessories.
How some accessories not available even on Samsung stores are listed with you?
South Port being the largest stocking partner of Samsung accessories in India. We stock accessories ourselves at our own cost. So there is likely a better chance of the product still in stock with us till the last of it gets sold anywhere.
All the products sold on South Port are 100% genuine & authentic which are sourced only from Samsung India authorised sales channels and they are supplied to you with proper brand warranty and GST invoices. We do not import anything ourselves.
PS: No grey stocks here. You will only receive products marketed officialy by Samsung India Electronics and meant for sale in the Indian subcontinent.
Who should I contact if I have any questions about products or your services?
You can get in touch with our team anytime between 11:00 AM to 9:00 PM, Monday to Saturday.
WhatsApp Us +91-9899740474
Call Us 1800119777 TOLL FREE
Write To Us at support@southport.in
We usually respond to calls & chat queries with in minutes, emails with in 24 hours. For any assistance required storewide, you can start a chat with us from the chat handle available on the right hand side below corner.
What is the Warranty Policy
Samsung provides warranty for each of its product only from their authorised care centers which are located all over the country. You can locate a service center by calling Samsung customer service at 1800-40-7267864.
Please note that the warranty on products sold on this website is valid only in India except Notebooks which carry international warranty. There are different periods of warrant offered for different types of items and they are mentioned separately on each of the product pages.
For the full warranty policy, please click here.
100% secured and traceable packages
We ship only through worldwide trusted courier partners using express shipping methods as standard for all the orders unless & otherwise there is any specific shipping constraint for any type of product.
Courier partners on our panel
Bluedart, Delhivery, XpressBees, Ecom Express, Amazon, Ekart, DTDC, Gati, Professional, Pidge, WeFast & Dunzo.
What is the shipping cost?
We provide Free Shipping on all orders which are of Rs.1000 value & above. Its our continuous endevour to provide you the best services which are at par to the ecommerce industry standards. So we imply a small operational delivery charge of Rs. 100 to the orders if they are below Rs. 1000 cart value.
Why do you apply shipping cost to small orders?
We apply this charge to keep going with our top standards of shipping without any compromise. We never wish to reduce our service levels for just a fraction of cost which our customers expect from us. Our customers understand well this is just a small amount for the world of services they get in return.
How long does it take to get my order delivered?
We ship orders mostly in 24 hours of receiving them. we opt the best and fastest serving couriers for your order. Once they are dispatched from our facility, our couriers usually take 1-3 days only to deliver to most pin codes across India. But sometimes it depends on the serviceability of your pin code or how deep the location is to reach, basis on any local variations it may take slight more time and max up to 7 days. Any local disturbances in your area may lead to delays in shipments but we will always keep in touch and you will be well informed for any such unforeseen delays beforehand. South Port offers various delivery speeds on special urgent requests also whereever possible like same day and guranteed 1-2 days. Please get in touch with us in case you wish to opt for that.
How do I track my order?
To track your order, please click here.
Enter the details like Order ID, Email ID, Phone Number or Tracking Number etc to track your order status.
Alternatively, you can login to your SouthPort account and check the status of the order from there. Once your order ships, you will receive a shipping notification that includes tracking information on your email ID, mobile SMS and WhatsApp. You can track your shipment through that also or you may also contact the carrier using that information.
Do you ship internationally ?
Unfortunately, we do not ship internationally at the moment. However, we are in the process of starting overseas delivery soon.
Do you provide COD?
We usually do not offer cash on delivery as standard option on our website. You can make payments using almost all types of prepaid methods like Credit/Debit Card, EMI, Net Banking, PayTM, PayPal, UPI, Google Pay, Amazon Pay, PhonePe, Wallets & Pay Later. But if you do not have any prepaid method to carry out the transaction, then we can provide you with partial COD option on request. In this you make a partial small payment while placing the order as advance and the balance payment you make to the delivery partner as COD. This is done to weed out non serious buyers. Contact us to opt for this option.
We accept returns with 7 days of the order delivery provided the product is not used and is in restockable condition. By restockable we mean that the seal of the product is expected not to be opened at all. All our products are 100% original so we cannot accept returns for item which are even slighly opened because their originality can be compromised and that's what our customer is trusting us for. We value our customer's trust on us more than anything.
100% Assured Product Compatibility Checks
As genuine Samsung products, exchanges and refunds are absolutely not possible after opening the packaging for reasons other than manufacturing defects. Please purchase only after carefully checking the model name and compatibility with your device in case of accessory purchases which is found at the end of product description. To ensure you the best shopping experience on our website, our team will personally confirm the orders and compatibility with you once before dispatching.
Our Cancellation Policy
For cancellation of items from southport.in, please click here.
Our Return Policy
For return of items from southport.in, please click here.
Trusted Payment Methods
Customer Reviews
10/05/2022
Kashan

India
Well designed Chromecast speaker that fills a room
After considering different speaker solutions (DAB radio, Sonos, Bluetooth speaker) i concluded that a Chromecast speaker would best fit my needs and after carefully comparing available speakers i ended up getting the JBL Playlist. It's a comparably large speaker, but the rounded and minimalist design helps it not looking intrusive on the bedroom table it's placed. Having an Andoid phone the software (Google Home) works seamlessly with the speaker and i'm able to easily play audio from radio channels or my favorite music service without having to think about it draining my phone's battery or being in close vicinity to the speaker. Playlist also supports Bluetooth in case you'd need that. Having built-in support for Spotify connect is also a big reason why i choose the Playlist. Easily being able to select which device to play on from within the application. The sound is very punchy, and when trying it in the living room it comfortably filled the room without sounding strained. The large bass element is certainly to thank for that. I would still strongly recommend considering the JBL Playlist if you're looking for a powerful, good looking wireless speaker.
10/05/2022
Nitin

India
Brilliant Speaker !
I carried out a lot of research before buying this Speaker. All the investigations paid off - this Speaker is just amazing. The installation was very easy and when the music started playing it was just mind blowing. Trust me, its absolutely impressive for the size and price. The tone is just right and the bass is just at the right level. It gives a feel of a big speaker with subwoofer built all in one and the trebles come through well making the sound very well balanced. The sound easily fills an average sized room and seems to surround you. The volume can be increased to quite a high level without any noticeable distortion. The Speaker is currently being sold at a ridiculously low price - buy one before they sell out - I guarantee you won't be disappointed.