Keeps the comfort in your grip
This case is made with Aramid material, created to be extremely thin to keep your phone's form factor as intact as possible. It simply snaps on to your phone without adding bulkiness.

*Device sold separately. Model and colour availability may vary by country.
Lightweight material, heavyweight durability
This lightweight, thin material is strong, making it durable and scratch-resistant. Once it's installed, you can rest assured your phone is ready to go, even if the going gets rough.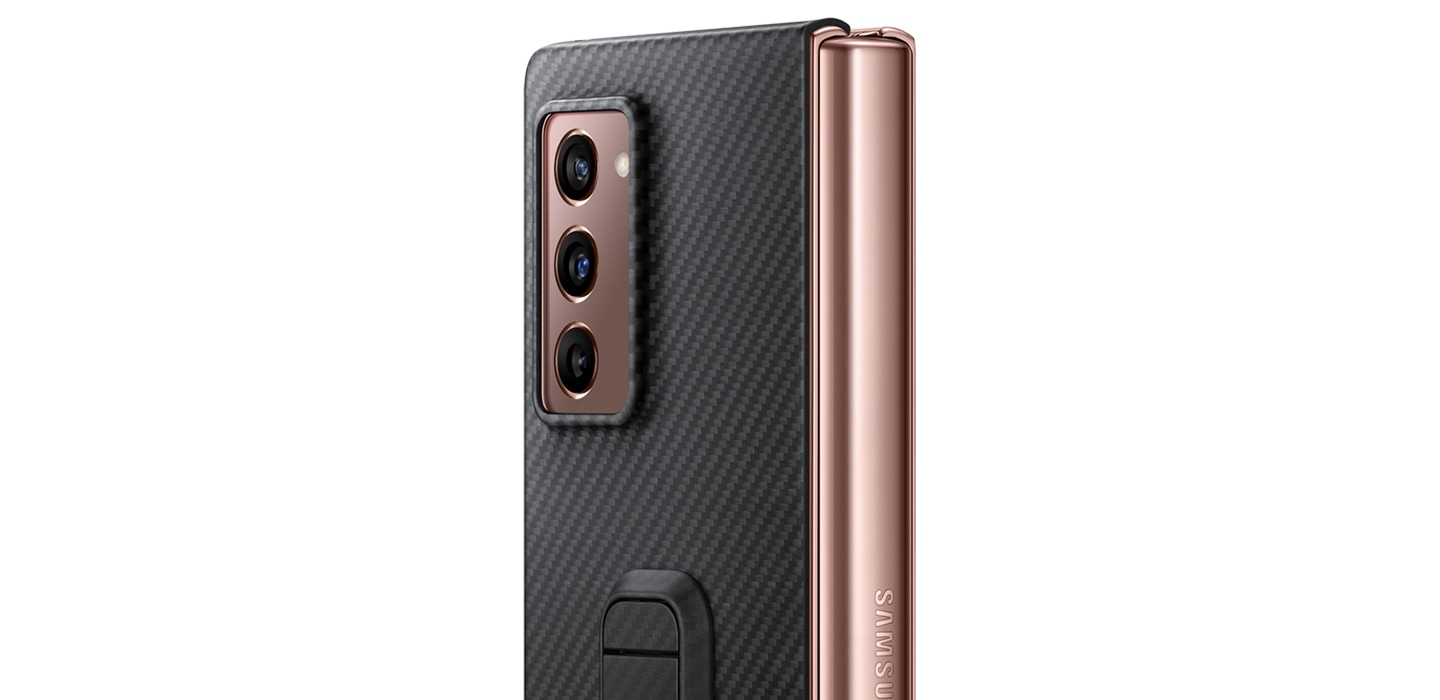 Propped up for a good view
A kickstand is built in to the back to hold your phone up in landscape mode at a comfortable angle. The cover doesn't obscure the Cover Screen or the Main Screen so whether it's folded or unfolded, you can see the whole picture and watch hands-free at an optimal viewing angle.
Specifications
Type: Protective Standing Cover
Single Back Cover Only
Look: Opaque
Material: TPU Mix
Aramid Military Grade Protection
Unbreakable Cover
Protects your Z Fold2 from drops & scratches
100% Genuine Samsung Product
Compatibility
Samsung Galaxy Z Fold 2 (F916 Model)
Box Contents
1N Back Cover
User Manual
Disclaimer
Actual colour of the product may vary from the photos displayed on the website. Mobile phone shown is only for pictorial demonstration and is not included in the package. Though the product has been tested and is designed to provide protection up to certain levels as per R&D but the product doesn't indemnify your device from breaking due to any kind of drops.

Warranty

No manufacturer warranty. The cover has no parts which can be covered under any kind of warranty. Warranty also doesn't cover regular wear and tear, breakage or fading of the cover as it is a consumable item and depends on personal usage patterns.
Imported & Marketed By

Samsung India Electronics Pvt. Ltd.
having its Corporate Office at:
6th Floor, DLF Centre, Sansad Marg,
New Delhi - 110001

Country of Origin

India, Vietnam, China, Korea
*Country of origin shall be as mentioned on the Product
Trusted Payment Methods