Product Description

Brand Authenticity

Warranty

Shipping

Payments

Returns
Get 3 devices charging—all at the same time!

Experience the power and versatility of a triple port charger.
* Charging cable is not included.
Go for the fast charge—with speed, stability, and power
Fast, safe and stable. Don't settle for less – enjoy Super Fast Charging for a wide range of tech essentials.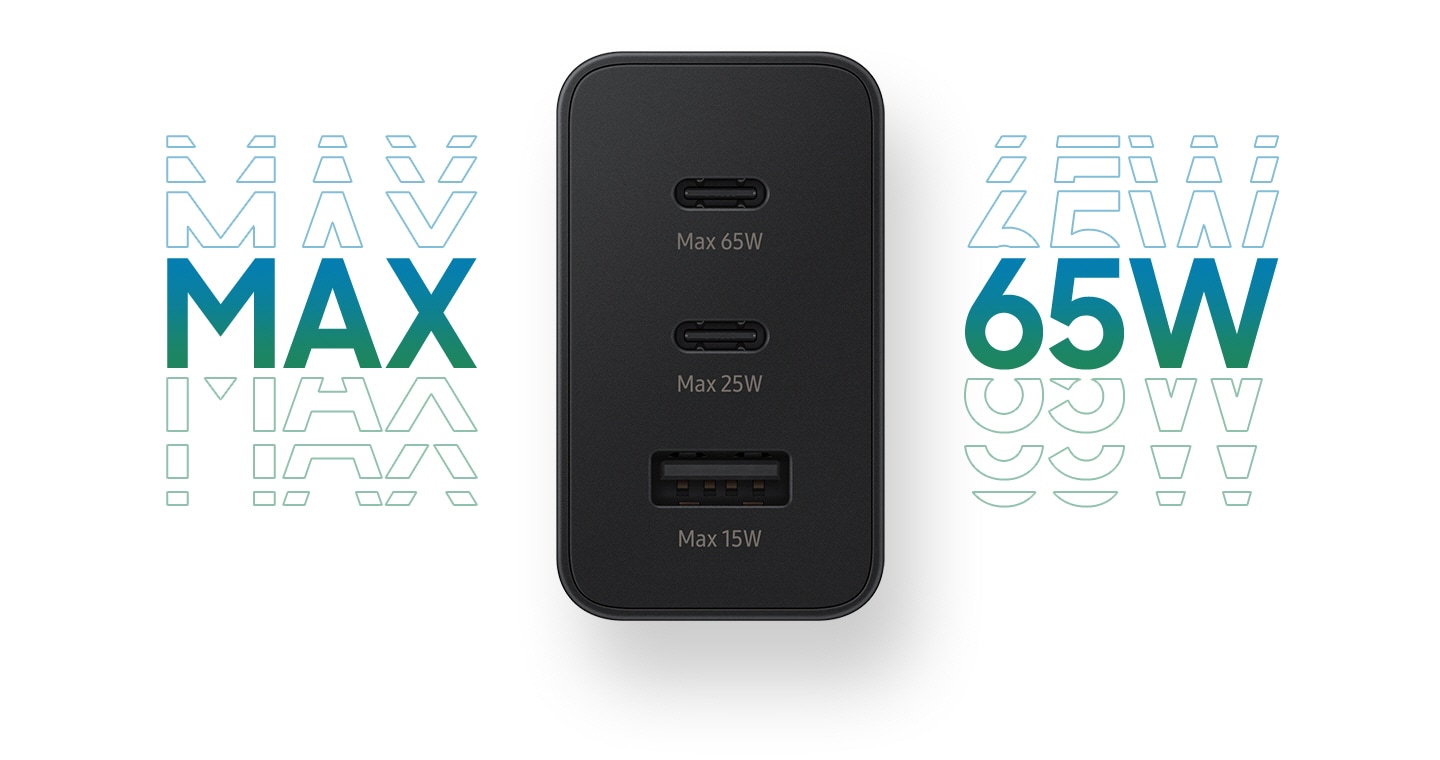 * Charging cable is not included.
** Power outputs for a single versus multiple devices vary as follows: Up to 65W when charging a single device under PD 3.0 and SFC(Super Fast Charging) 2.0 conditions with USB-C. Up to 25W when charging a single device under PD 3.0 and SFC(Super Fast Charging) conditions with USB-C. Up to 15W a single device under AFC(Adaptive Fast Charging) conditions with USB-A. This adapter can charge up to 3 devices simultaneously with 65W maximum total output power as with 35W, 25W, and 5W respectively. Actual charging speed may vary depending on the number of devices.
*** Super Fast Charging (SFC) is Samsung's fast charging method supported for Galaxy Notes (Note10 and higher), Galaxy S Series (S10 5G and higher), and other SFC capable devices such as iPhones (iPhone8 or higher), Adapative Fast Charging (AFC) is fast charing portocol for Samsung devices.
**** SFC 2.0(45W) is available on Galaxy S20 Ultra, Note10+ and higher. Other devices may be added in the future.
***** USB PD 3.0(Power Delivery) is USB IF standard to charge quickly over USB-C. It is recommended to use USB standard cable.
****** PD 65W & SFC 45W requires 5A cable.
Universal Compatibility
From earbuds to laptops, charge a wide range of devices at their optimal speeds and take advantage of ideal charging times for your devices.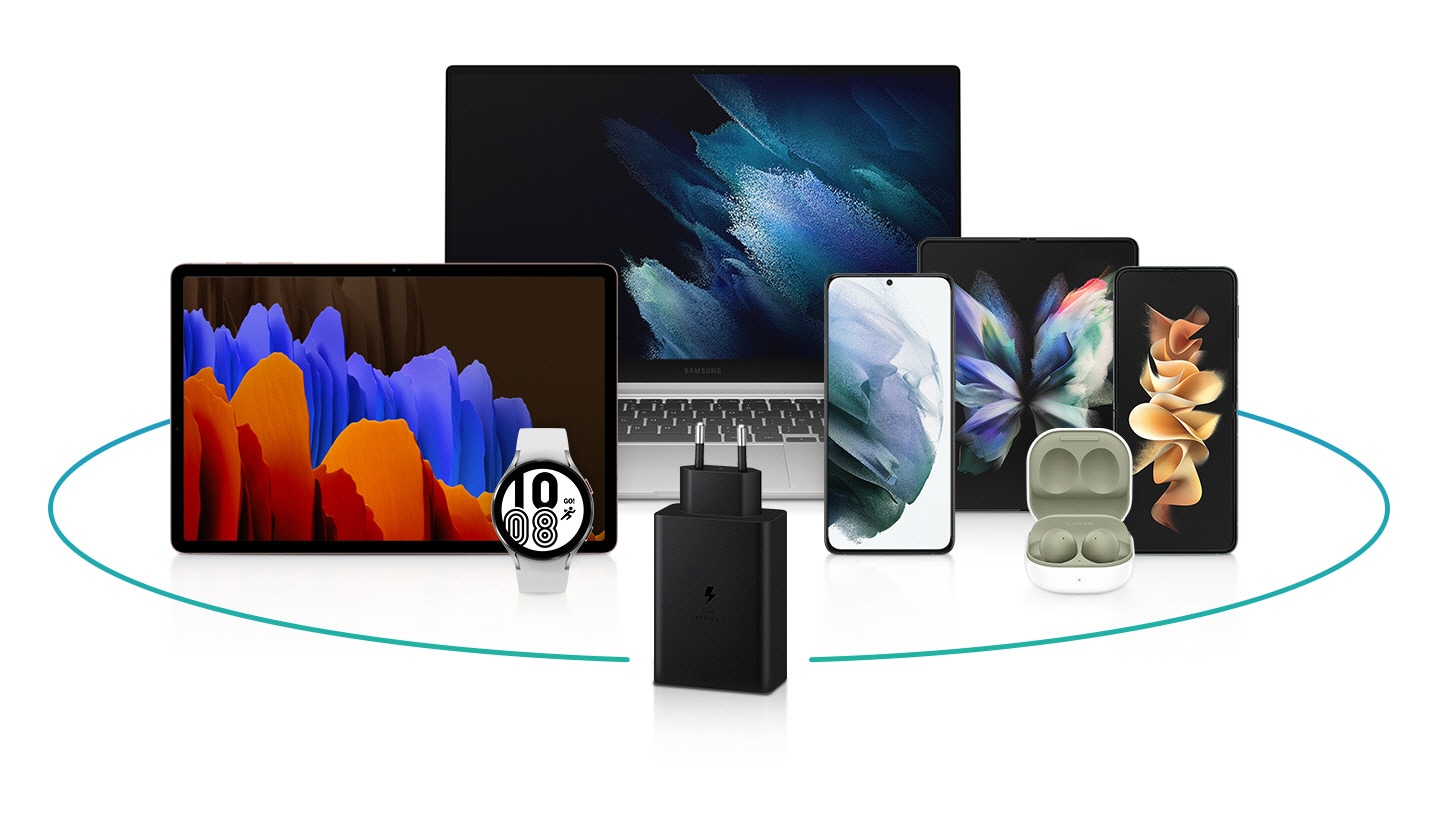 * Charging cable is not included.
** Devices may not charge properly, depending on factors such as connected device, cable, charging environment.
Power your device safely
Keep your devices safe from overcurrent, short circuits and high temperature. Charge safely and securely without worrying about noise and current leakage.
* Tested under third-party laboratory condition with EP-T6530. Independently assessed by TÜV SÜD or CTK Korea between 2021.10.1~21.10.31 in Korea.
** This 65W adapter has been certified by the relevant authority in each country where it is sold.
*** For further information of test equipment or regulations of each country, please visit Contact US menu on Samsung.com.
Features
PD Power Adapter

Three Output Ports

Supports Super Fast Charging

Supports Max Upto 65W Output
Specifications
(USB-C1) Super Fast Charging 2.0 max. 45 W, PD 3.0 PDO max. 65 W, PPS max. 45 W / (USB-C2) Super Fast Charging max. 25 W, PD 3.0 PDO,PPS max. 25 W / (USB-A) AFC,QC max. 15 W / (C1+C2) 40 W + 25 W / (C1+A) 50 W + 15 W / (C2+A) 25 W + 15 W / (all) 35 W + 25 W + 5 W

Input Voltage 100-240 V, 50-60 Hz

Output Voltage (Max, Normal Charge) 5 V
Output Voltage (Max, Fast Charge) (USB-C1, PDO) 9 V, 15 V, 20 V / (USB-C1, PPS) 5.0-20.0 V / (USB-C2, PDO) 9 V / (USB-C2, PPS) 5.0-11.0 V / (USB-A) 9 V
Output Current (Max, Normal Charge) 3 A
Output Current (Max, Fast Charge) (USB-C1, PDO) 3 A(9 V), 3 A(15 V), 3.25 A(20 V) / (USB-C1, PPS) 3.5 A(5.0-11.0 V), 2.8 A(5.0-16.0 V), 2.25 A(5.0-20.0 V) / (USB-C2, PDO) 2.77 A(9 V) / (USB-C2, PPS) 3.0 A(5.0-5.9 V), 2.25 A(5.0-11.0 V) / (USB-A) 1.67 A(9 V)
Dimension (WxHxD) 57.5 x 30 x 84 mm
Weight 177.5 g
Compatibility
In Box Contents
1N Charger Adapter Brick (No Data Cable)
Quick Start Guide
Warranty
6 months manufacturer warranty. Warranty doesn't cover regular wear and tear, breakage or fading of the product as it is a consumable item and depends on personal usage patterns.
Manufactured By
Samsung Electronics VIETNAM Co. Ltd.
Yen Phong Industrial Park, Yen Trung Commune,
Yen Phong District, Bac Ninh Province,
VIETNAM
Imported & Marketed By
Samsung India Electronics Pvt. Ltd.
having its Corporate Office at:
6th Floor, DLF Centre, Sansad Marg,
New Delhi - 110001 
Country of Origin
India, Vietnam, China, Korea
*Country of origin shall be as mentioned on the Product
100% original products
South Port is an authorised brand partner of major premium brands like Samsung, Apple in India. The company only retails flagship products under exclusive partnership rights only with select top level brands for mobile category business.
How some accessories not available anywhere else are listed with you?
South Port is the largest stocking partner of branded original accessories in India, so we are the last place where the stocks will ever run out. We stock accessories ourselves and always in ready stock for immediate shipment.
All the products sold on South Port are 100% genuine & authentic which are sourced only from authorised brand channels in India and they are supplied to you with proper brand warranty and GST invoices.
Who should I contact if I have any questions about your product or service?
You can get in touch with our team anytime between 11:00 AM to 9:00 PM, Monday to Saturday. You can WhatsApp us at +91-9899740474 or Call TOLL FREE 1800119777 or Write to us at support@southport.in
We usually respond to calls & chat queries with in minutes and most emails with in working 12 hours.
What is the Warranty Policy
Warranty is as per manufacturer norms.
Brand like Samsung & Apple provide warranty for each of their product only from their authorised care centers which are located all over the country. You can locate a brand's service center by calling their customer service
Samsung 1800-40-7267864
For the full Samsung warranty policy, please click here.
Please note that the warranty on Samsung products is valid only in India except for their Notebooks which carry international warranty (under limited period offer). There are different periods of warrant offered for different types of items and they are mentioned separately on each of the product pages.
Apple provides standard warranty for accessories and international warranty on all their devices.
Apple 80-4045-5150, 800-100-9009
100% secured and traceable packages
We ship only through worldwide trusted courier partners using express shipping methods as standard for all the orders unless & otherwise stated or in case of any specific shipping constraint for any type of product.
Our courier partners
Bluedart, Delhivery, XpressBees, Ecom Express, Amazon, Ekart, DTDC, Professional, Pidge, WeFast & Dunzo.
What is the shipping cost?
We provide Free Shipping on all orders which are valued Rs.1000 & above. Its our continuous endevour to provide you the best services which are at par to the ecommerce industry standards. So we imply a small operational delivery charge of Rs. 100 to the orders if they are below Rs. 1000 cart value. We apply this charge to keep going with our top standards of shipping which we do not want to compromise.
How much time it takes to get the order delivered?
We ship orders mostly in 24 hours of receiving them. We opt the best and fastest serving couriers for your order.
Ship Speed (depending on location pin codes across India)
Tier 1 - 1-3 Days
Tier 2 - 3-6 Days
Tier 3 - 6-9 Days
Remote/Rural - 9-12 Days
Any local disturbances in your area may lead to delays in shipments but we will always keep in touch and you will be well informed for any such unforeseen delays beforehand.
How do I track my order?
To track your order, please click here.
Enter the details like Order ID, Email ID, Phone Number or Tracking Number etc to track your order status. Alternatively, you can login to your SouthPort account and check the status of the order from there. Once your order ships, you will receive a shipping notification that includes tracking information on your email ID, mobile SMS and WhatsApp.
Do you ship internationally ?
Unfortunately, we do not ship internationally at the moment. However, we are in the process of starting overseas delivery soon.
Trusted Payment Methods
What are the modes of payment?
You can make payments using almost all types of prepaid methods like
Credit/Debit Card
EMI
Net Banking
PayTM
PayPal
UPI
Google Pay
Amazon Pay
PhonePe
Wallets
Pay Later
Simpl
COD
Cash on Delivery
We have started to accept COD orders only for certain permissible values depending upon your pincode allowance & servicability of the service provider. This is done at sole descretion of the courier and you will be informed immediately after placement of order if any changes are observed in your location related to order limits or services. If COD is not servicable then the order will be converted to prepaid and you will be informed. We will ask you to make full payment in that case.
COD applicable limits
We offer COD for orders up to ₹10,000. We charge a shipping fee of ₹199 on all COD orders. This fee amount you have to make advance before shipment of the order. This is being done to weed out non serious buyers and to make it a safer place to shop for all our customers.
What are COD charges?
We apply ₹199 COD fee to all cash on delivery orders over and above the cost of the item and the fee amount is payable in advance. Once we receive the COD fee from your end, we dispatch the item at purchase price which is then payable on delivery to the delivery partner.
We accept returns with 7 days of the order delivery provided the product is not used and is in restockable condition. By restockable we mean that the seal of the product is expected not to be opened at all. All our products are 100% original so we cannot accept returns for item which are even slighly opened because their originality can be compromised and that's what our customer is trusting us for. We value our customer's trust on us more than anything.
100% Assured Product Compatibility Checks
As we sell only genuine branded products, exchanges and refunds are absolutely not possible after opening the packaging for reasons other than manufacturing defects. Please purchase only after carefully checking the model name and compatibility with your device in case of accessory purchases which is found at the end of product description. To ensure you the best shopping experience on our website, our team will personally confirm the orders and compatibility with you once before dispatching.
Our Cancellation Policy
For cancellation of items from southport.in, please click here.
Our Return Policy
For return of items from southport.in, please click here.