Product Description

Brand Authenticity

Warranty

Shipping

Returns
Your own personal light show
When you turn your phone face down or pop out the S Pen, lights on the back of the LED Cover will fade in and out, creating a little light show.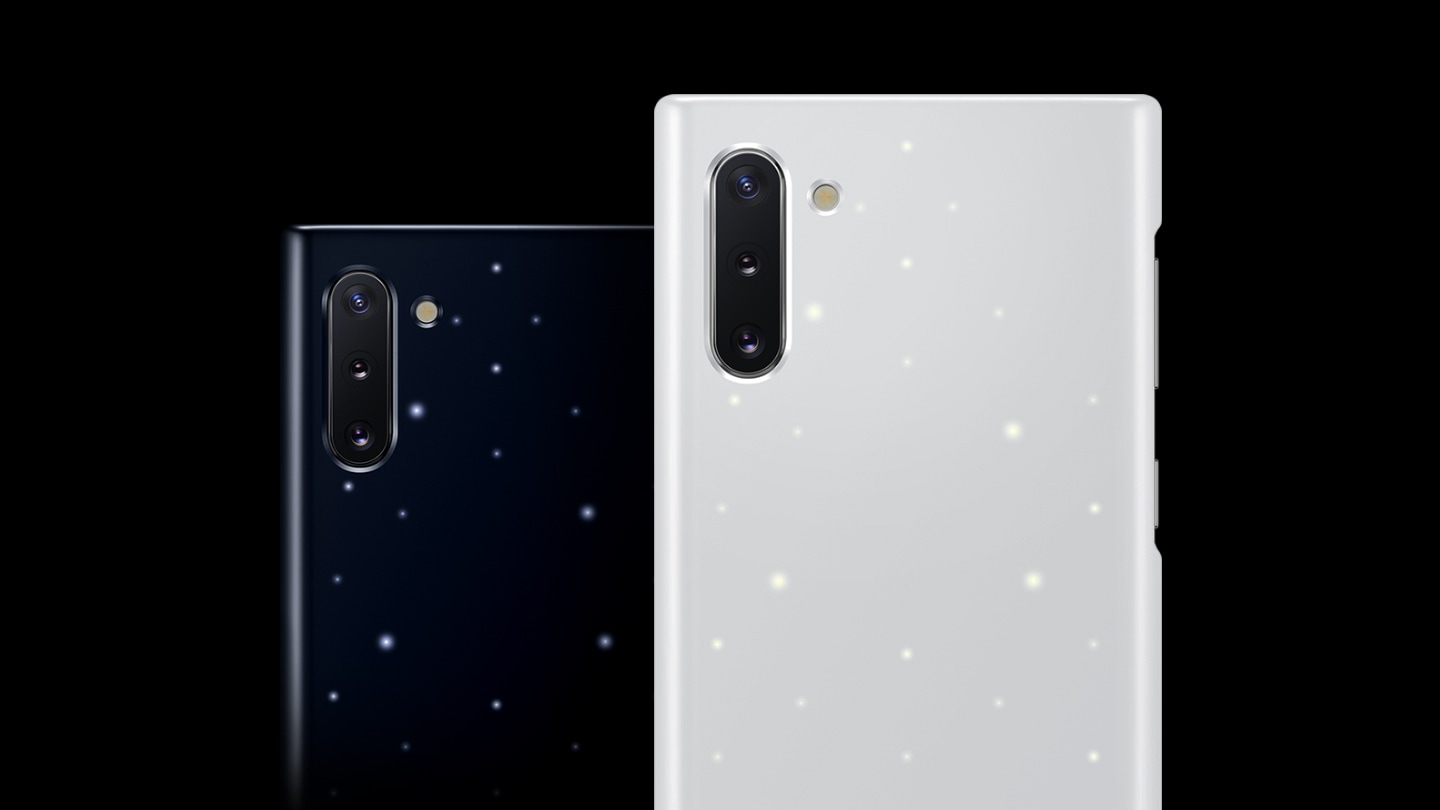 *It is recommended to remove the cover from your Galaxy Note10 before using Wireless PowerShare.
Keeps you in the know
Even if you can't see the screen, you can stay informed with the LED icons that light up on the back. So if a call or a text comes in, an icon will appear to let you know. It even works with certain third party messaging apps.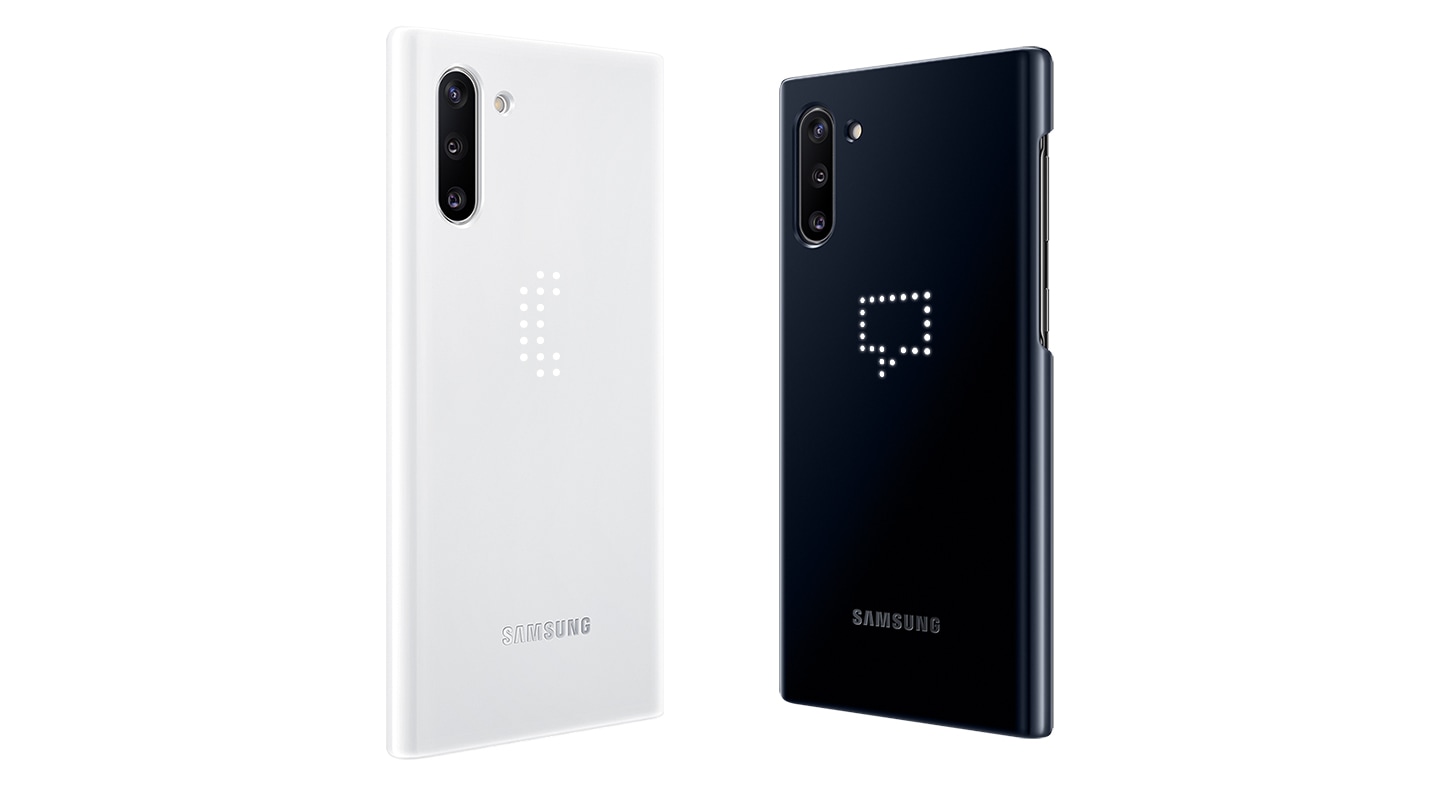 Group shots as simple as 3, 2, 1
Minimise the chances of someone blinking in the group photo. When you start the camera timer, a countdown appears on the back of the case, letting everyone know how much time they have to strike a pose.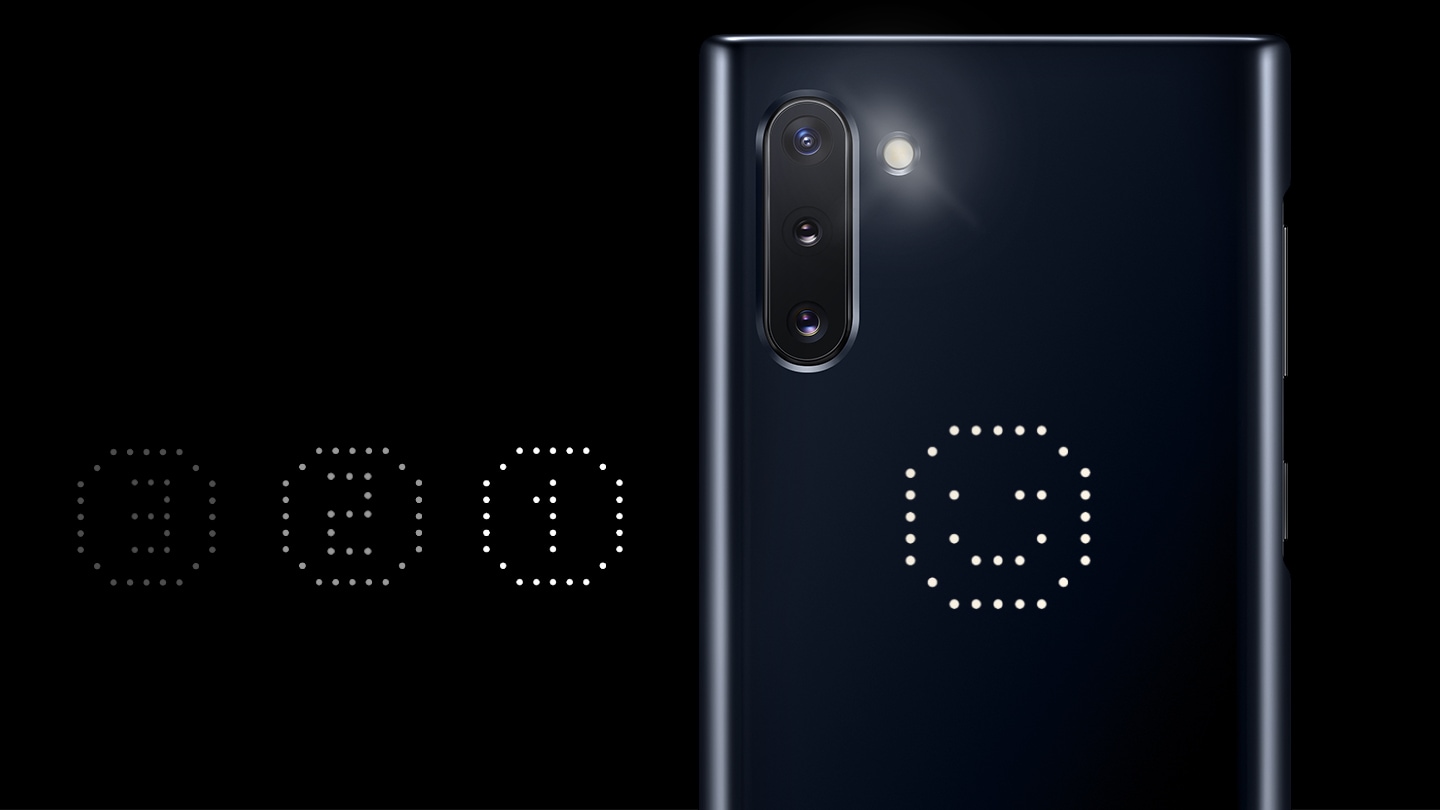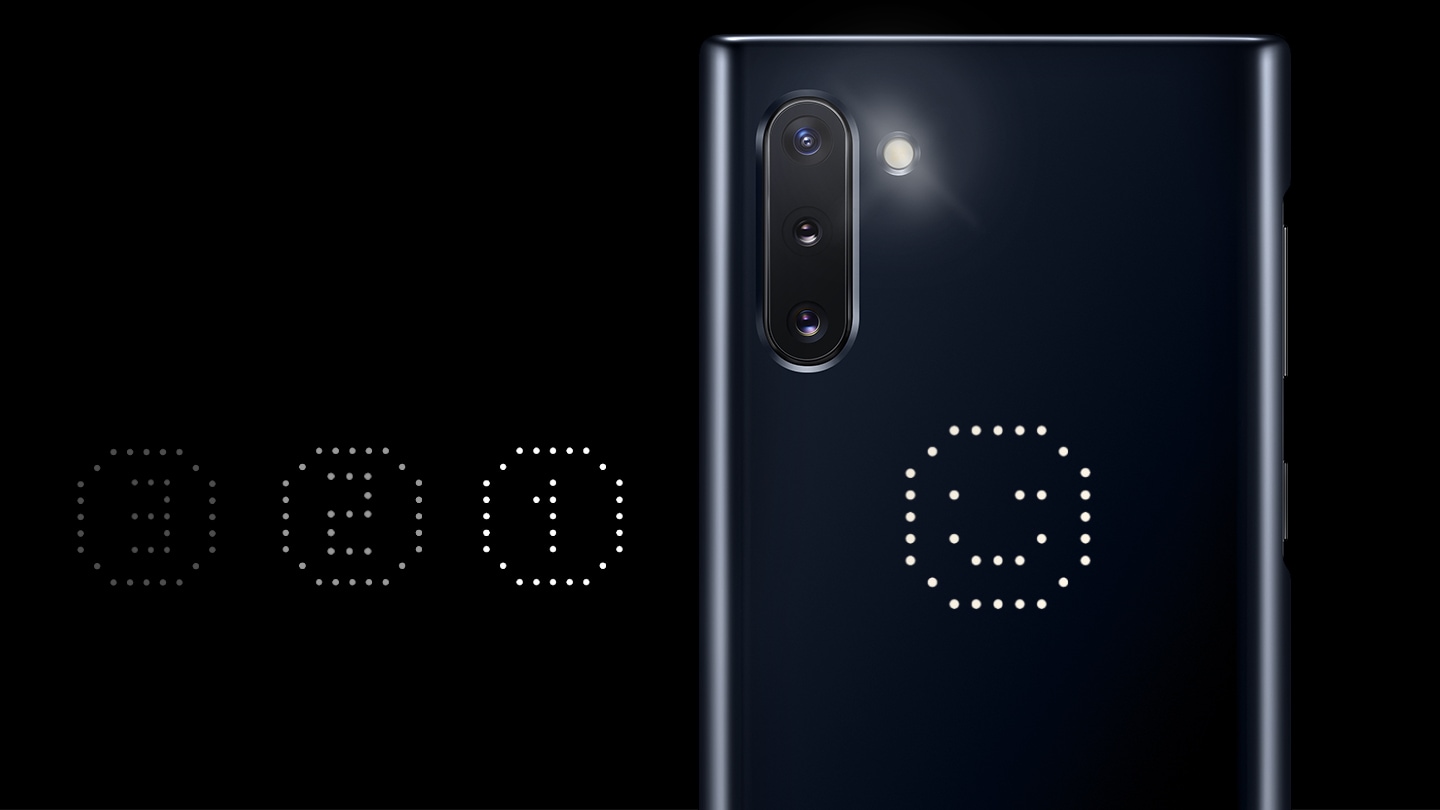 Make it all match
Snap your phone into the case and you'll have the option to download and update your UI theme.
Add a touch of fun
This cover lets you express yourself in a surprising way with your choice of icons. You have the option of selecting an icon to appear when you turn your phone over or when you're taking a mirror selfie, making your phone cover as individualistic as you are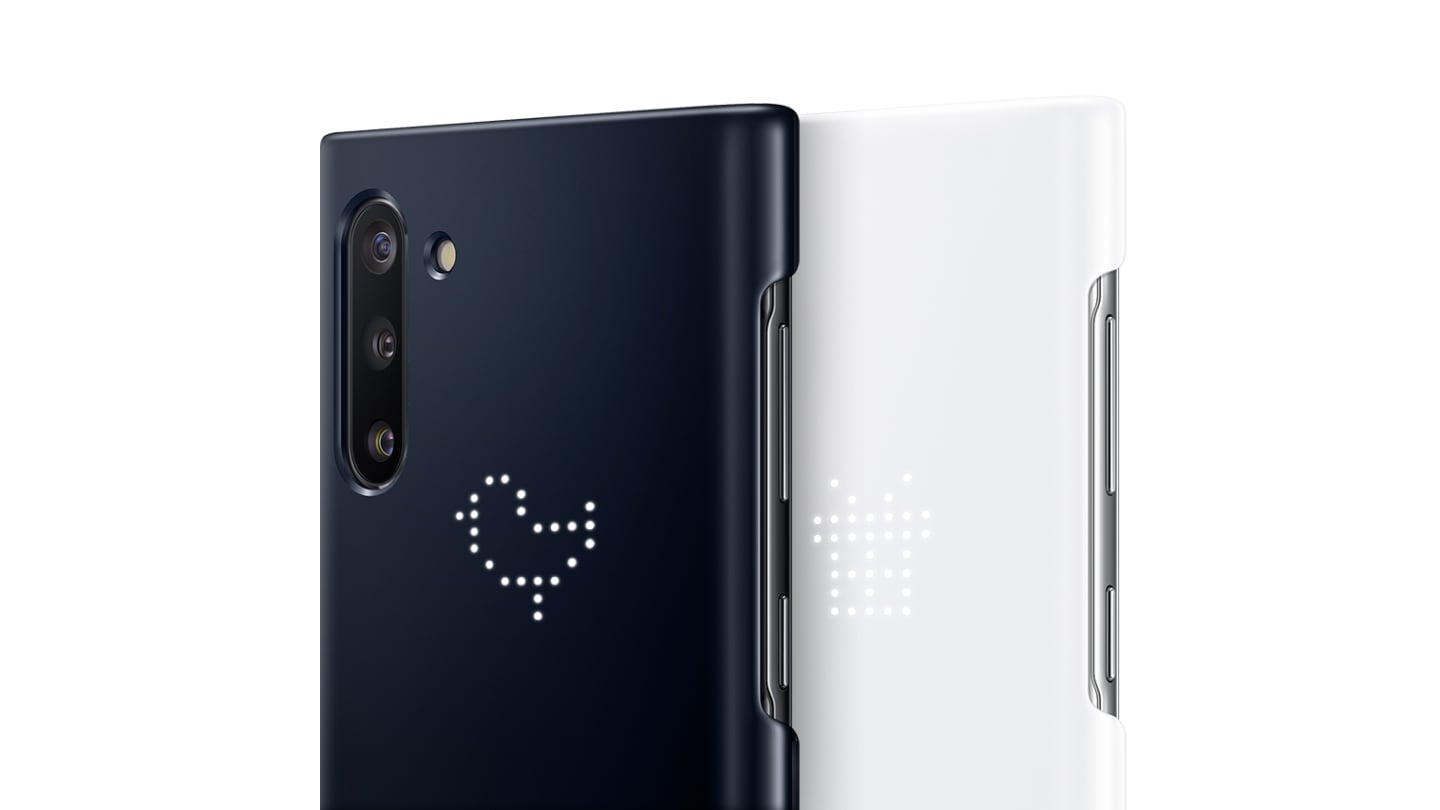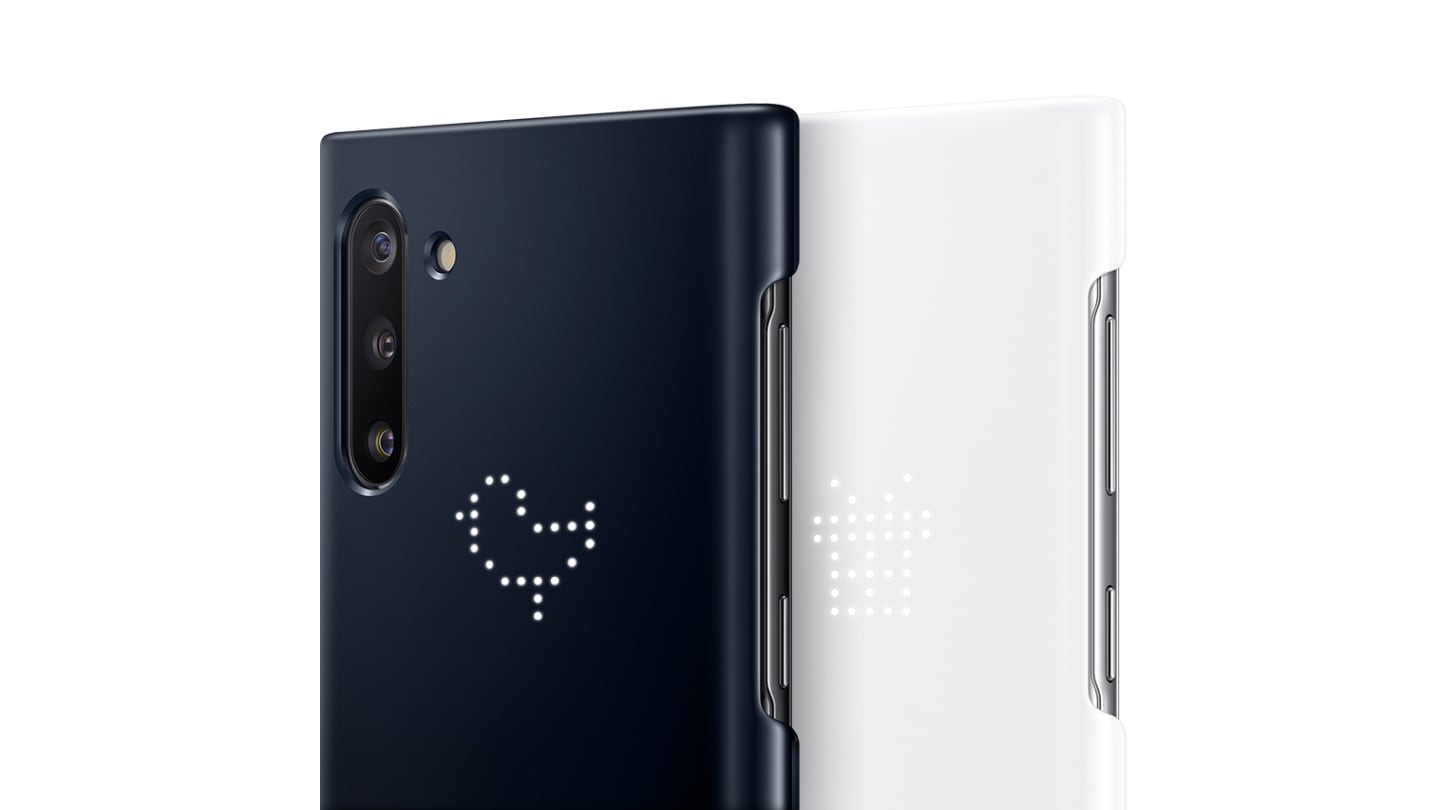 Specifications
Type: LED Back Cover
Look: Opaque
Material: Plastic
Unbreakable Cover
Protects your handset from drops and scratches
100% Genuine Samsung Product
Compatibility
Samsung Galaxy Note10 (Note 10 N970 Model)
Box Contents
1N LED Back Cover
User Manual
Disclaimer
Actual colour of the product may vary from the photos displayed on the website. Mobile phone shown is only for pictorial demonstration and is not included in the package. Though the product has been drop tested and is designed to provide protection up to certain levels as per R&D but the product doesn't indemnify your device from breaking due to any kind of drops.
Warranty
3 months manufacturer warranty for the LED sensor. Warranty doesn't cover regular wear and tear, breakage or fading of the cover as it is a consumable item and depends on personal usage patterns.
Imported & Marketed By
Samsung India Electronics Pvt. Ltd.
having its Corporate Office at:
6th Floor, DLF Centre, Sansad Marg,
New Delhi - 110001
Country of Origin
India, Vietnam, China, Korea
*Country of origin shall be as mentioned on the Product
100% original products
South Port is an authorised brand partner of Samsung India. The company is a flagship store partner and also an exclusive partner of Samsung India Electronics for mobile business and accessories.
How some accessories not available even on Samsung stores are listed with you?
South Port being the largest stocking partner of Samsung accessories in India. We stock accessories ourselves at our own cost. So there is likely a better chance of the product still in stock with us till the last of it gets sold anywhere.
All the products sold on South Port are 100% genuine & authentic which are sourced only from Samsung India authorised sales channels and they are supplied to you with proper brand warranty and GST invoices. We do not import anything ourselves.
PS: No grey stocks here. You will only receive products marketed officialy by Samsung India Electronics and meant for sale in the Indian subcontinent.
Who should I contact if I have any questions about products or your services?
You can get in touch with our team anytime between 11:00 AM to 9:00 PM, Monday to Saturday.
WhatsApp Us +91-9899740474
Call Us 1800119777 TOLL FREE
Write To Us at support@southport.in
We usually respond to calls & chat queries with in minutes, emails with in 24 hours. For any assistance required storewide, you can start a chat with us from the chat handle available on the right hand side below corner.
What is the Warranty Policy
Samsung provides warranty for each of its product only from their authorised care centers which are located all over the country. You can locate a service center by calling Samsung customer service at 1800-40-7267864.
Please note that the warranty on products sold on this website is valid only in India except Notebooks which carry international warranty. There are different periods of warrant offered for different types of items and they are mentioned separately on each of the product pages.
For the full warranty policy, please click here.
100% secured and traceable packages
We ship only through worldwide trusted courier partners using express shipping methods as standard for all the orders unless & otherwise there is any specific shipping constraint for any type of product.
Courier partners on our panel
Bluedart, Delhivery, XpressBees, Ecom Express, Amazon, Ekart, DTDC, Gati, Professional, Pidge, WeFast & Dunzo.
What is the shipping cost?
We provide Free Shipping on all orders which are of Rs.1000 value & above. Its our continuous endevour to provide you the best services which are at par to the ecommerce industry standards. So we imply a small operational delivery charge of Rs. 100 to the orders if they are below Rs. 1000 cart value.
Why do you apply shipping cost to small orders?
We apply this charge to keep going with our top standards of shipping without any compromise. We never wish to reduce our service levels for just a fraction of cost which our customers expect from us. Our customers understand well this is just a small amount for the world of services they get in return.
How long does it take to get my order delivered?
We ship orders mostly in 24 hours of receiving them. we opt the best and fastest serving couriers for your order. Once they are dispatched from our facility, our couriers usually take 1-3 days only to deliver to most pin codes across India. But sometimes it depends on the serviceability of your pin code or how deep the location is to reach, basis on any local variations it may take slight more time and max up to 7 days. Any local disturbances in your area may lead to delays in shipments but we will always keep in touch and you will be well informed for any such unforeseen delays beforehand. South Port offers various delivery speeds on special urgent requests also whereever possible like same day and guranteed 1-2 days. Please get in touch with us in case you wish to opt for that.
How do I track my order?
To track your order, please click here.
Enter the details like Order ID, Email ID, Phone Number or Tracking Number etc to track your order status.
Alternatively, you can login to your SouthPort account and check the status of the order from there. Once your order ships, you will receive a shipping notification that includes tracking information on your email ID, mobile SMS and WhatsApp. You can track your shipment through that also or you may also contact the carrier using that information.
Do you ship internationally ?
Unfortunately, we do not ship internationally at the moment. However, we are in the process of starting overseas delivery soon.
Do you provide COD?
We usually do not offer cash on delivery as standard option on our website. You can make payments using almost all types of prepaid methods like Credit/Debit Card, EMI, Net Banking, PayTM, PayPal, UPI, Google Pay, Amazon Pay, PhonePe, Wallets & Pay Later. But if you do not have any prepaid method to carry out the transaction, then we can provide you with partial COD option on request. In this you make a partial small payment while placing the order as advance and the balance payment you make to the delivery partner as COD. This is done to weed out non serious buyers. Contact us to opt for this option.
We accept returns with 7 days of the order delivery provided the product is not used and is in restockable condition. By restockable we mean that the seal of the product is expected not to be opened at all. All our products are 100% original so we cannot accept returns for item which are even slighly opened because their originality can be compromised and that's what our customer is trusting us for. We value our customer's trust on us more than anything.
100% Assured Product Compatibility Checks
As genuine Samsung products, exchanges and refunds are absolutely not possible after opening the packaging for reasons other than manufacturing defects. Please purchase only after carefully checking the model name and compatibility with your device in case of accessory purchases which is found at the end of product description. To ensure you the best shopping experience on our website, our team will personally confirm the orders and compatibility with you once before dispatching.
Our Cancellation Policy
For cancellation of items from southport.in, please click here.
Our Return Policy
For return of items from southport.in, please click here.
Trusted Payment Methods