Product Description

What is Unboxed

Brand Authenticity

Warranty

Shipping

Returns
Galaxy Tab A7 Lite
Designed to go where you do
Display 22.05cm (8.7")│Weight 371g│Metal Cover
Don't sacrifice style for convenience. Galaxy Tab A7 Lite gives you both in a slim package. Measuring a thin 8.0mm and weighing 371g, this highly portable tablet packs easily into your bag and doesn't hold you back with heaviness. Choose between a sleek Gray or a Silver finish.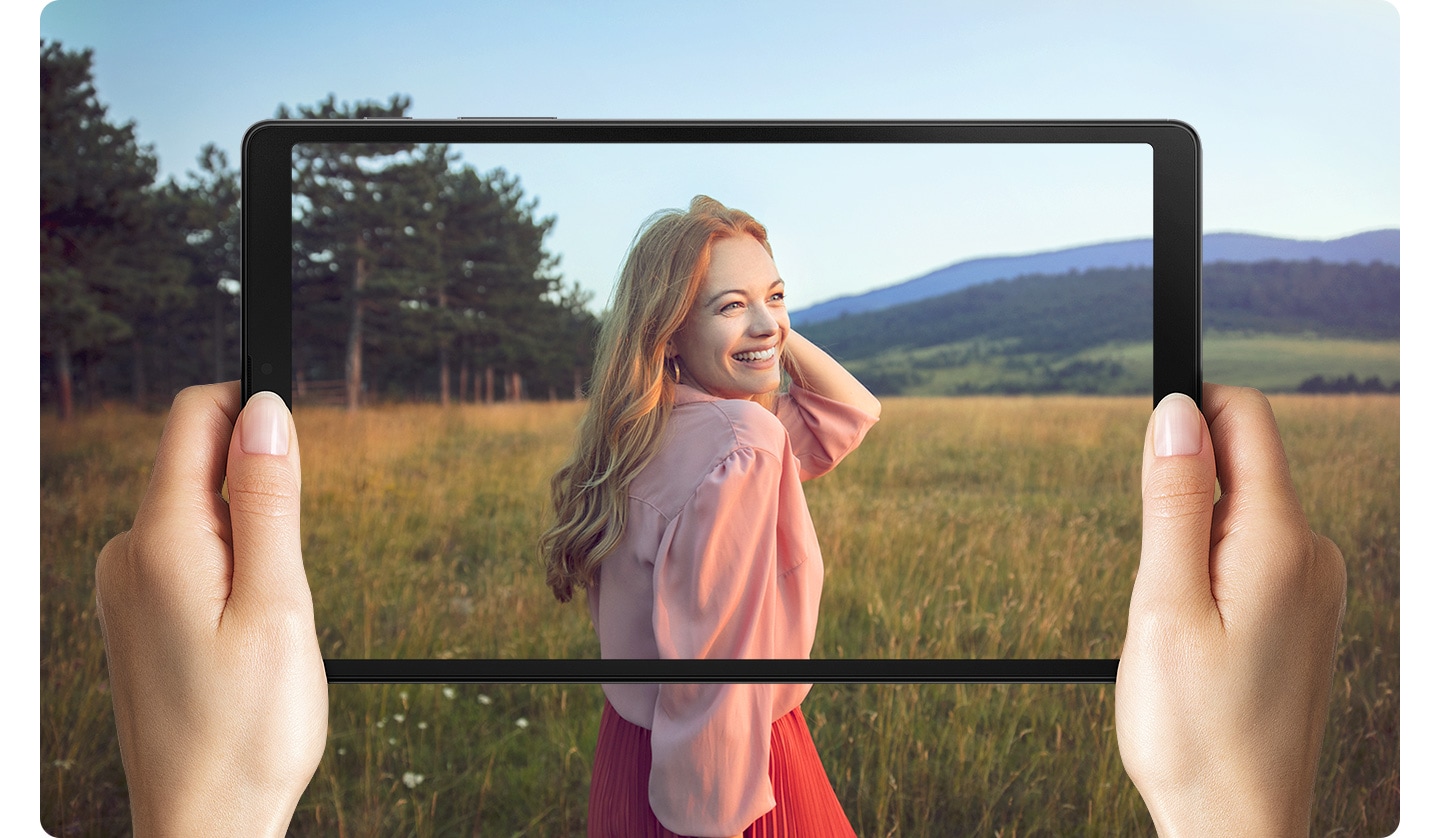 *Color may vary by country or carrier.**Thickness and weight varies by configuration and manufacturing process.
Simple gestures for one-handed use
Easily navigate your tablet with one hand. A gesture-based menu allows you to do things like go Back, see your Recent apps, and return to the Home menu all with a swipe of your thumb. With dozens of functions, Galaxy Tab A7 Lite puts convenience at your fingertips.
*Feature is avaliable to download via Galaxy Store.**All features, functionalities, contents, user interfaces and benefits described herein may change without notice, and their availability may vary by country/region, device model and OS version.
A camera to capture your live moments
The Galaxy Tab A7 Lite camera is ready to capture and share your moment. Whether you're looking to capture stunning portraits or breathtaking scenery, this device has you covered. With 8MP main camera your memories stay vivid, bright, and clear.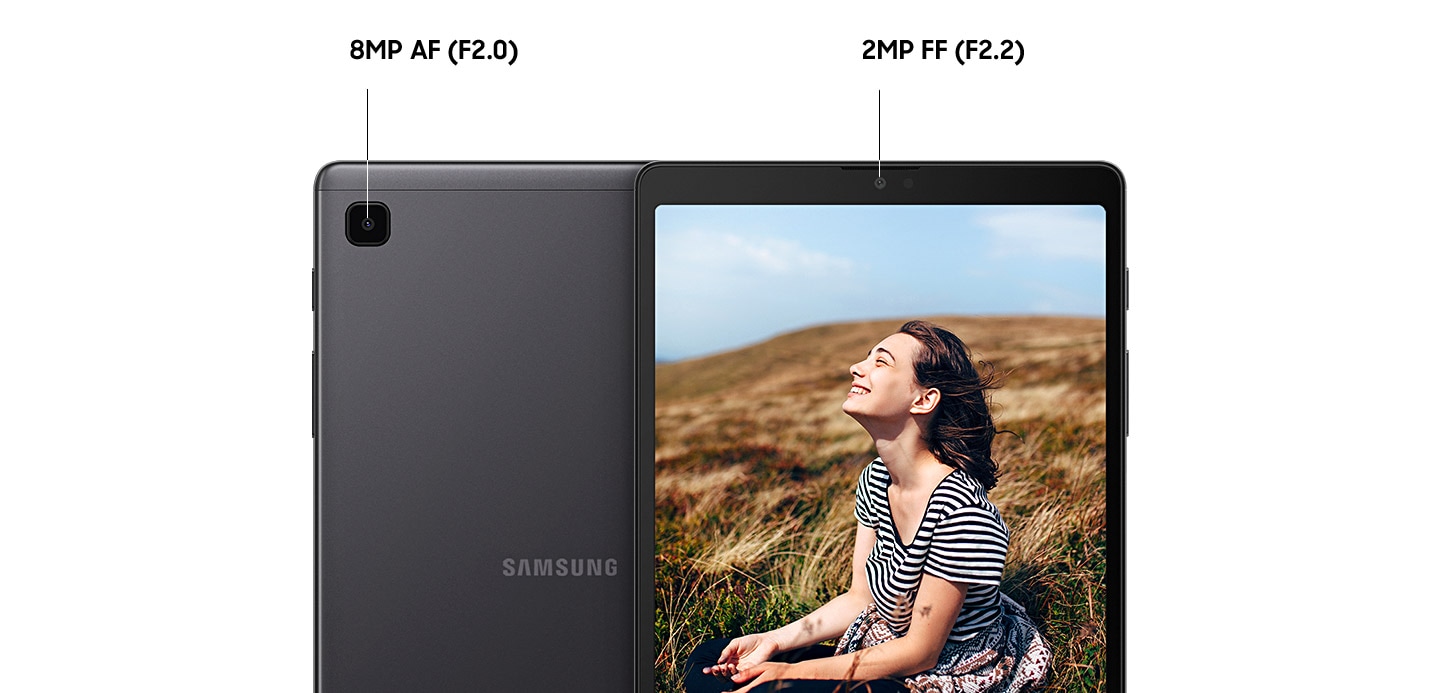 *Images simulated for illustration purposes.
The nearest theatre is where you are
Less bezel means more room for a bigger, 22.05cm (8.7") display on a conveniently compact tablet. Enjoy an impromptu private screening in the park or binge watch in bed with dual speakers in landscape orientation that deliver rich, stereo sound.
*Images simulated for illustration purposes.**Measured diagonally as a full rectangle without accounting for the rounded corners. Actual viewable area is less due to the rounded corners.
Store more of what you love
Storage 3+32GB | 1 TB Micro SD Card
Galaxy Tab A7 Lite comes with 32GB storage built in for all your hi-resolution videos, photos and files. You can then expand it with a microSD card for even more storage — up to 1TB. Store more you love and delete less.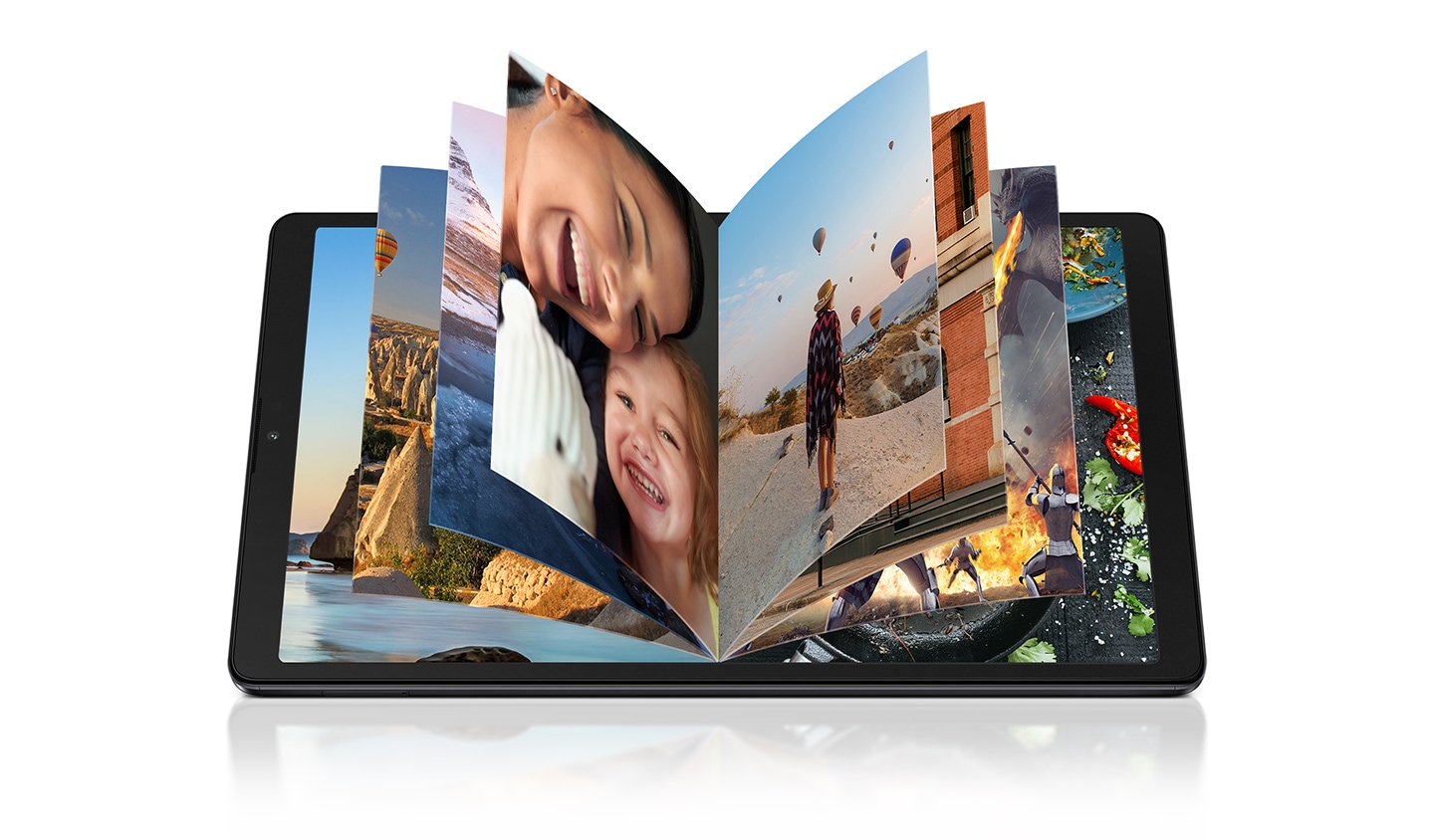 *Storage options and availability may vary by country or region.**Micro SD card sold separately. Up to 1TB. External memory can be used to store media (photos, video and music files), but not applications. Availability may vary by country and manufacturer.
Battery life that stands out from the pack
Galaxy Tab A7 Lite carries more power than you'd expect in a device this sleek. The 5,100mAh* battery gives you the freedom to forget about the charger for long periods of time when you have somewhere to go or lots to watch.
*Typical value tested under third-party laboratory condition. Typical value is the estimated average value considering the deviation in battery capacity among the battery samples tested under IEC 61960 standard. Rated (minimum) capacity is 4,980mAh. Actual battery life may vary depending on network environment, usage patterns and other factors.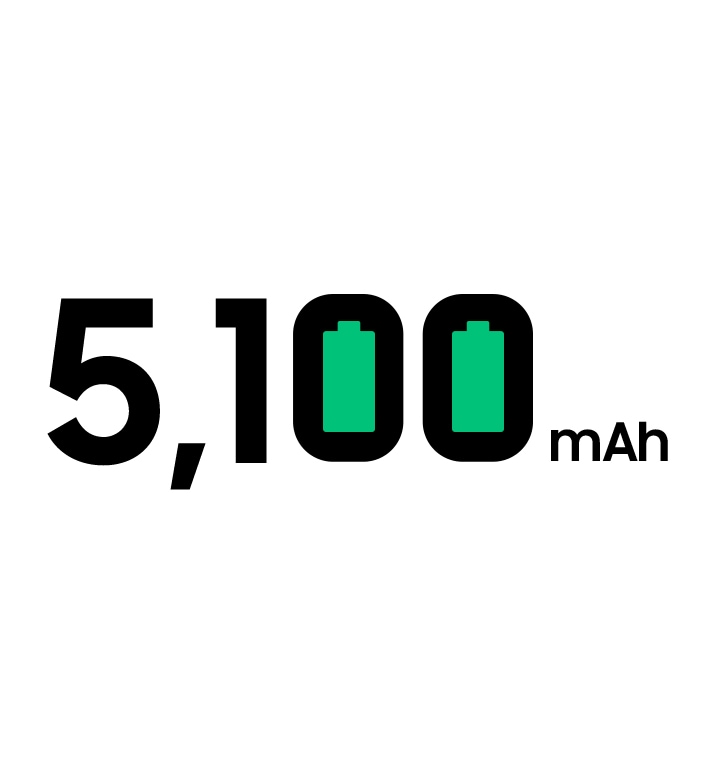 Keep the connection in your Galaxy
Make life more convenient with a seamless connection between your Samsung Galaxy devices. Log in to your Samsung Account and link up Galaxy Tab A7 Lite with your phone. Then you can take calls and send texts from your tablet, and connect to your mobile data Hotspot, without picking up the phone.
*Call & text on other devices feature is supported between Samsung devices running Android P and with 3GB RAM and above. Service function rollout date may vary by region, carrier and device.**Call & text on other devices feature requires both devices to be connected to the same Samsung account and devices need be initially paired in the settings in order to automatically connect.***Auto Hotspot feature is only available between Samsung smartphones and Samsung tablets running Android 10 or higher.****Auto Hotspot requires both devices to be connected to the same Samsung account.*****Availability of mobile hotspot may vary by carrier policy.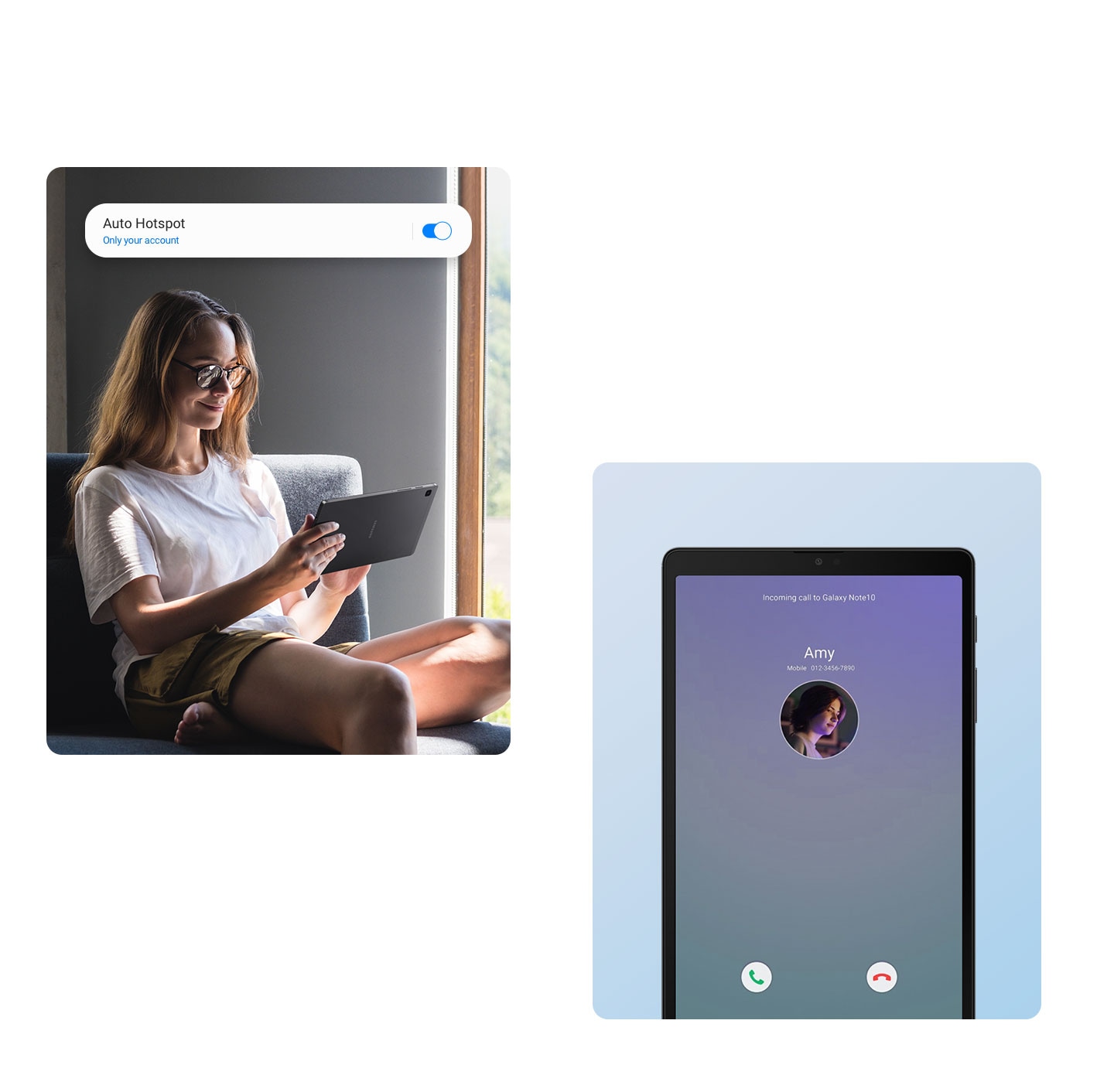 A digital playground for learning and fun
Samsung Kids lets you shape a safe environment for your children to explore. Simply tap on Samsung Kids in the Quick panel and enjoy native apps with characters that live inside virtual world. Parental Control lets you monitor usage and play time so you can hand over the tablet with peace of mind.
Security at every level protects what's yours
Samsung Knox delivers defense-grade security. Your private data is protected from most malware and malicious attacks by leveraging the hardware-backed and multi-layered Knox security platform.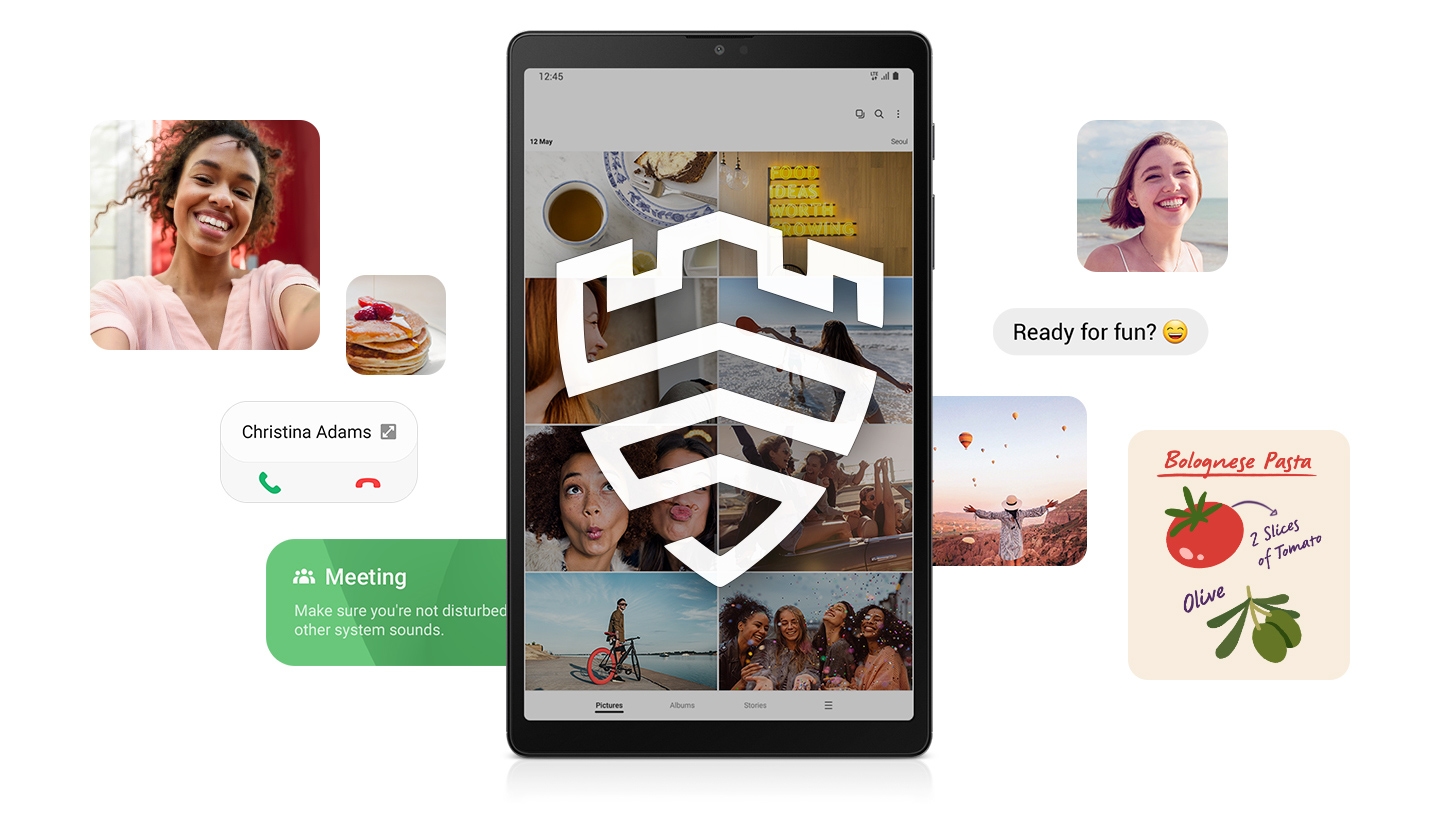 *Images simulated for illustration purposes.
Condition

Unboxed, New & Unused
All original unused in box accessories intact

Warranty
1 Year Manufacturer Warranty as per the invoice date
Warranty from Samsung India Service Centers
Imported & Marketed By
Samsung India Electronics Pvt. Ltd.
having its Corporate Office at:
6th Floor, DLF Centre, Sansad Marg,
New Delhi - 110001
Country of Origin
India, Vietnam, China, Korea
*Country of origin shall be as mentioned on the Product
Unboxed means a product that has already been opened up!
These are products which were opened and returned to the company unused and untouch. They are not used or sold. They are neither damaged nor defective and never ever repaired. The reason of return could be anything except a damage/defect. These devices come with original box, accessories and manufacturer warranty. Where as a refurbished product is something that has been previously used, may be damaged and re-assembled from different parts derived from similar products to get it in a position that it still works as per norms. Refurbished products are called by many names like renewed, but clearly they were used by the customers, returned due to defect/damage and repaired by the company to work as a new product and are of-course cheaper alternatives.
Are all unboxed items sold by different websites online the same?
No. They are not. Every website has their own set of rules and ethics. Every unboxed available online cannot be compared with ours simply on the basis of price. A lot of things matter which have to be taken into consideration as to why the product was unboxed. That cannot be same for everyone. 90% of the websites online sell customer used second hand items and refurbished products branded under the title of unboxed which is not right. There are very few honest companies out there which keep you completely informed about your purchase. One such name is South Port.
How is South Port unboxed category unique?
South Port's unboxed category of items are strictly 100% new and untouch units. There are very limited units only and these are from our warehouse only. We do not source anything from secondary market and strictly do not sell anything used. It is against our policy. We are an official partner of Samsung and are in business of selling new products only. Second hand selling is not our business.
What about customer satisfaction?
We have tight quality check standards in place for all unboxed items and our engineers make sure the product is perfect for sale. We do not send any unboxed item to any customer without proper information and purchase satisfaction. Our Unboxed is not refurbished.
Why are they been unboxed?
Our unboxed products are never-been-used items whose box seal was opened or broken. These items have never been sold and they never left our facility. It may have been opened up for any of the following reasons
Internal quality testing
Auditing of stocks health.
Fragile seal spoiled during shipping/transit
Seal break during stock handling
Received in same condition from the company
Web video reviewing
Internal test & training purposes of staff
In-store or online demonstration to corporates but never manhandled or displayed.
Unsold products of the customers who changed their mind immediately on their purchase when strictly the item doesn't leaves our store
Someone wanted to upgrade to a different model instantly at the time of purchase just after opening the product.

Wrong product opened by mistake by a sales personnel at our store.
Whatever the case may be, we do make a clear mention before selling it to you.
Do they work well?
All these types of products work just like brand-new. The only difference remains is that the sealed box was opened by someone else except you and nothing else changes. We maintain the highest levels of quality check standards in the industry today and you can rely on our unboxed items eyes closed.
What about the warranty?
The warranty remains same, you have to claim warranty as usual from the service centers only. Everything remains same and all the processes of getting the service also remains same just like buying a new product from a Samsung store.
What is the warranty period we get on these products?
Warranty is mantioned on each of the products. Some have full 1 year manufacturer warranty and some have remaining manufacturer warranty or no warranty.
What is remaining manufacturer warranty?
If a product has been mentioned as coming with remaining manufacturer warranty, it means you will get the warranty from the date of first activation of the product as per the data of official company servers. So whatever balance warranty remains till the expiration of the original warranty, you will get that. For example if a mobile phone has been activated on 01-01-2022, then the warranty will be valid till 31-12-2022.
How do I get to know the remaining warranty on a product today?
You have to open a Chat with one of our available executives online. You can also WhatsApp us and our team will provide the exact information as on date.
100% original products
South Port is an authorised brand partner of Samsung India. The company is a flagship store partner and also an exclusive partner of Samsung India Electronics for mobile business and accessories.
How some accessories not available even on Samsung stores are listed with you?
South Port being the largest stocking partner of Samsung accessories in India. We stock accessories ourselves at our own cost. So there is likely a better chance of the product still in stock with us till the last of it gets sold anywhere.
All the products sold on South Port are 100% genuine & authentic which are sourced only from Samsung India authorised sales channels and they are supplied to you with proper brand warranty and GST invoices. We do not import anything ourselves.
PS: No grey stocks here. You will only receive products marketed officialy by Samsung India Electronics and meant for sale in the Indian subcontinent.
Who should I contact if I have any questions about products or your services?
You can get in touch with our team anytime between 11:00 AM to 9:00 PM, Monday to Saturday.
WhatsApp Us +91-9899740474
Call Us 1800119777 TOLL FREE
Write To Us at support@southport.in
We usually respond to calls & chat queries with in minutes, emails with in 24 hours. For any assistance required storewide, you can start a chat with us from the chat handle available on the right hand side below corner.
What is the Warranty Policy
Samsung provides warranty for each of its product only from their authorised care centers which are located all over the country. You can locate a service center by calling Samsung customer service at 1800-40-7267864.
Please note that the warranty on products sold on this website is valid only in India except Notebooks which carry international warranty. There are different periods of warrant offered for different types of items and they are mentioned separately on each of the product pages.
For the full warranty policy, please click here.
100% secured and traceable packages
We ship only through worldwide trusted courier partners using express shipping methods as standard for all the orders unless & otherwise there is any specific shipping constraint for any type of product.
Courier partners on our panel
Bluedart, Delhivery, XpressBees, Ecom Express, Amazon, Ekart, DTDC, Gati, Professional, Pidge, WeFast & Dunzo.
What is the shipping cost?
We provide Free Shipping on all orders which are of Rs.1000 value & above. Its our continuous endevour to provide you the best services which are at par to the ecommerce industry standards. So we imply a small operational delivery charge of Rs. 100 to the orders if they are below Rs. 1000 cart value.
Why do you apply shipping cost to small orders?
We apply this charge to keep going with our top standards of shipping without any compromise. We never wish to reduce our service levels for just a fraction of cost which our customers expect from us. Our customers understand well this is just a small amount for the world of services they get in return.
How long does it take to get my order delivered?
We ship orders mostly in 24 hours of receiving them. we opt the best and fastest serving couriers for your order. Once they are dispatched from our facility, our couriers usually take 1-3 days only to deliver to most pin codes across India. But sometimes it depends on the serviceability of your pin code or how deep the location is to reach, basis on any local variations it may take slight more time and max up to 7 days. Any local disturbances in your area may lead to delays in shipments but we will always keep in touch and you will be well informed for any such unforeseen delays beforehand. South Port offers various delivery speeds on special urgent requests also whereever possible like same day and guranteed 1-2 days. Please get in touch with us in case you wish to opt for that.
How do I track my order?
To track your order, please click here.
Enter the details like Order ID, Email ID, Phone Number or Tracking Number etc to track your order status.
Alternatively, you can login to your SouthPort account and check the status of the order from there. Once your order ships, you will receive a shipping notification that includes tracking information on your email ID, mobile SMS and WhatsApp. You can track your shipment through that also or you may also contact the carrier using that information.
Do you ship internationally ?
Unfortunately, we do not ship internationally at the moment. However, we are in the process of starting overseas delivery soon.
Do you provide COD?
We usually do not offer cash on delivery as standard option on our website. You can make payments using almost all types of prepaid methods like Credit/Debit Card, EMI, Net Banking, PayTM, PayPal, UPI, Google Pay, Amazon Pay, PhonePe, Wallets & Pay Later. But if you do not have any prepaid method to carry out the transaction, then we can provide you with partial COD option on request. In this you make a partial small payment while placing the order as advance and the balance payment you make to the delivery partner as COD. This is done to weed out non serious buyers. Contact us to opt for this option.
We accept returns with 7 days of the order delivery provided the product is not used and is in restockable condition. By restockable we mean that the seal of the product is expected not to be opened at all. All our products are 100% original so we cannot accept returns for item which are even slighly opened because their originality can be compromised and that's what our customer is trusting us for. We value our customer's trust on us more than anything.
100% Assured Product Compatibility Checks
As genuine Samsung products, exchanges and refunds are absolutely not possible after opening the packaging for reasons other than manufacturing defects. Please purchase only after carefully checking the model name and compatibility with your device in case of accessory purchases which is found at the end of product description. To ensure you the best shopping experience on our website, our team will personally confirm the orders and compatibility with you once before dispatching.
Our Cancellation Policy
For cancellation of items from southport.in, please click here.
Our Return Policy
For return of items from southport.in, please click here.
Trusted Payment Methods