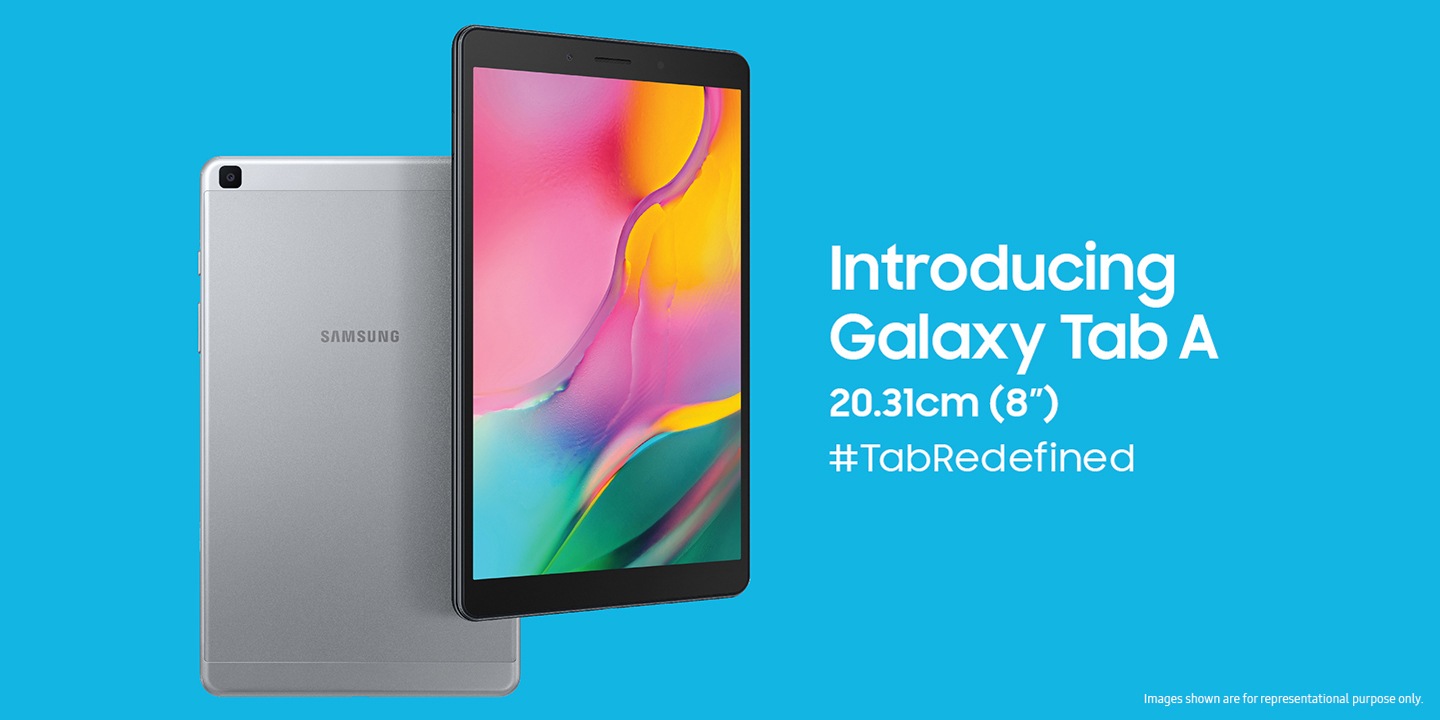 Key Features
Tab A 8
| | | | |
| --- | --- | --- | --- |
| Dual speaker | 20.31cm (8.0") Display | Samsung Kids Home | Battery |
Designed to go wherever you go
Discover a practical companion in Galaxy Tab A 8.0, a tablet that excels at the basics and adds a lot more. With a compact frame that's easy to carry with one hand, ,it is the ideal blend of performance and design . There's always room for your Galaxy Tab A 8.0 where you're going. Slim and weighing just 347 grams, children carry it with ease while adults can grip it in just one hand. Find it in either black or silver to fit your own style.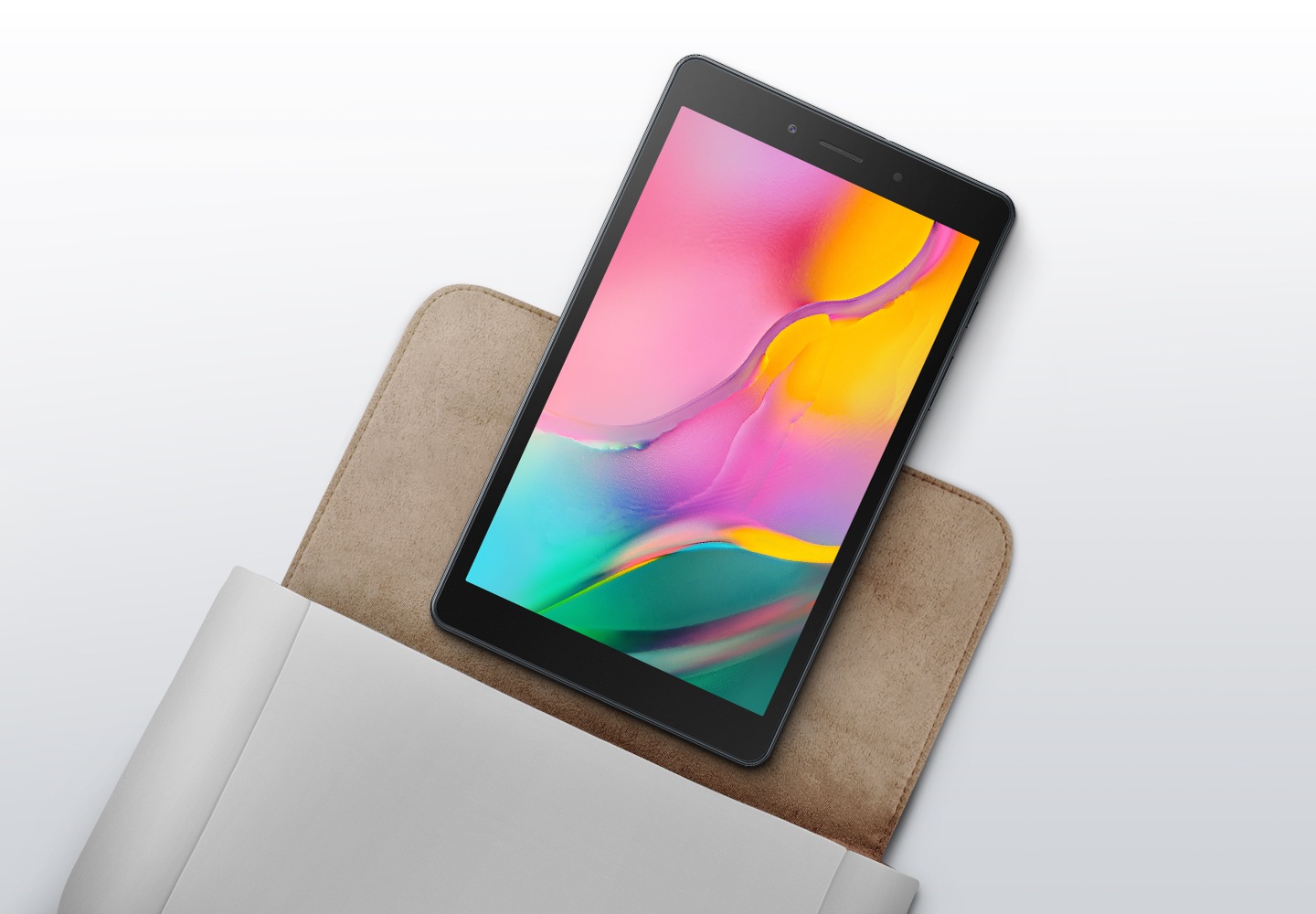 *Product color availability may vary depending on country, region and carrier.
**Actual device weight may show slight variation from number listed.
Big on entertainment
The Galaxy Tab A 8.0 packs a punch with a brilliant 1280x800 pixel display. The 16:10 screen ratio is designed for an immersive viewing experience both in portrait and landscape mode. It comes bundled with a free YouTube Premium subscription so your favorite videos keep playing ad-free and uninterrupted. The dual speakers are designed to provide enriched sound quality while seamlessly merging with the sleek design.
*Availability of YouTube Premium may vary by country or region. Users must subscribe to a YouTube Premium account to enjoy all its benefits. YouTube Premium free trial available only for 2 months.
Battery life that stands out from the pack
Galaxy Tab A 8.0 carries more power than you'd expect in a device this sleek. The 5,100mAh* battery gives you the freedom to forget about the charger for long periods of time when you have somewhere to go or lots to watch.
*Typical value tested under third-party laboratory condition. Typical value is the estimated average value considering the deviation in battery capacity among the battery samples tested under IEC 61960 standard. Rated (minimum) capacity is 4,980mAh. Actual battery life may vary depending on network environment, usage patterns and other factors.
Power packed processor and all the storage you need
When it comes to performance and storage space Galaxy Tab A 8.0 checks off all the boxes. It comes with 2GB of RAM and 32GB of storage, and the latest Android P OS. A dedicated SD Card slot allows additional storage of up to 512GB so you never have to worry about deleting your memories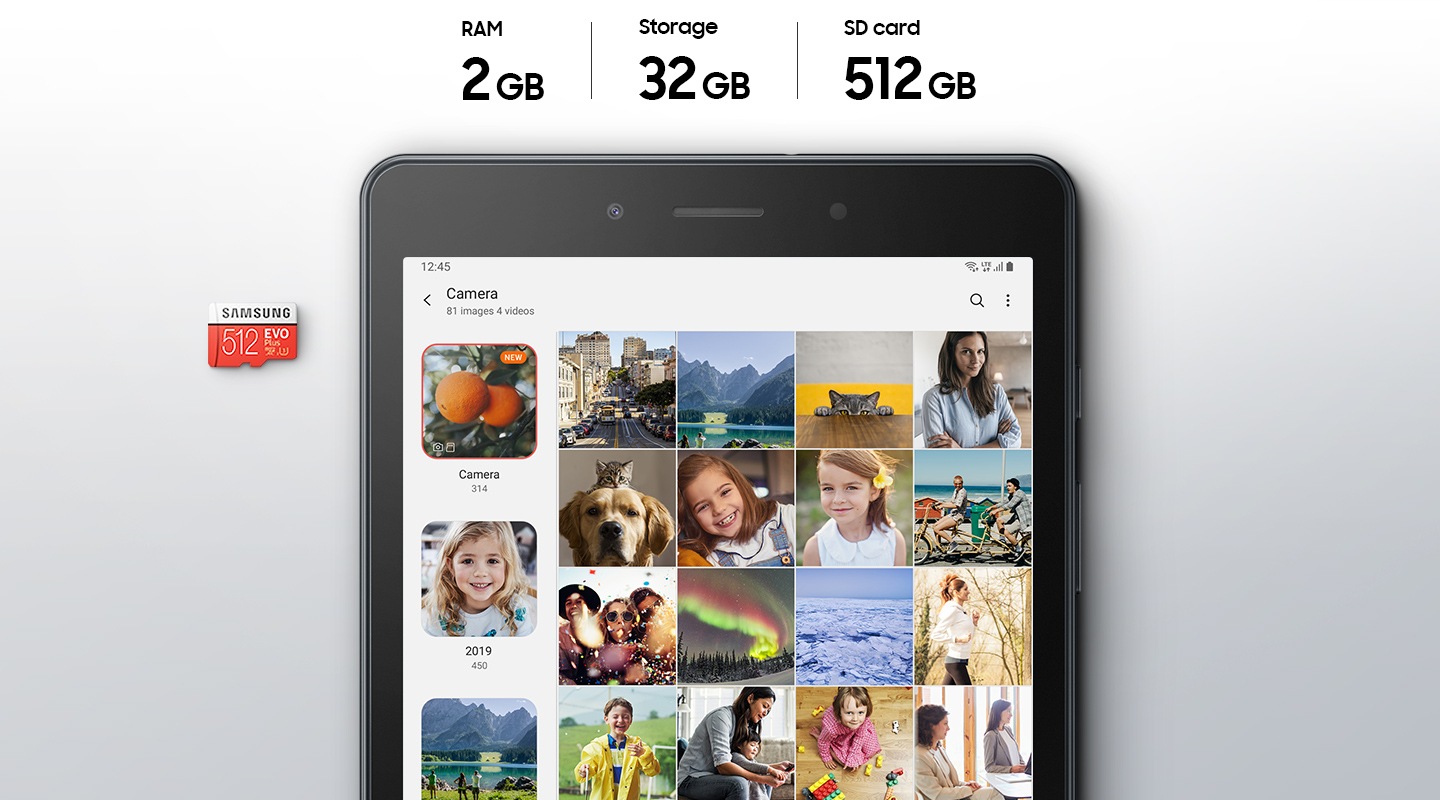 A digital playground for learning and fun
Samsung Kids Home lets you shape a safe environment for your children to explore. Simply tap in the Quick panel to enjoy native apps with characters that live inside their virtual world. Parental Control lets you monitor usage and play time so you can hand over the tablet with peace of mind.
*Content provided on Samsung Kids Home varies by country and region. Please click Learn More to find out more about Samsung Kids Home where you live.
Stay connected, always
With your Samsung account you can now share your pictures, Calendar and Samsung Notes, instantly. Share and create memories with your loved ones, even when you are apart.
Focus only on what you want to see
View only what you want, when you want it. With One UI, Galaxy Tab A 8.0 minimizes display clutter by curating content that is most relevant to you. Simply tap and focus on what you want to see and read one detail at a time, and enjoy the big screen optimized tablet experience.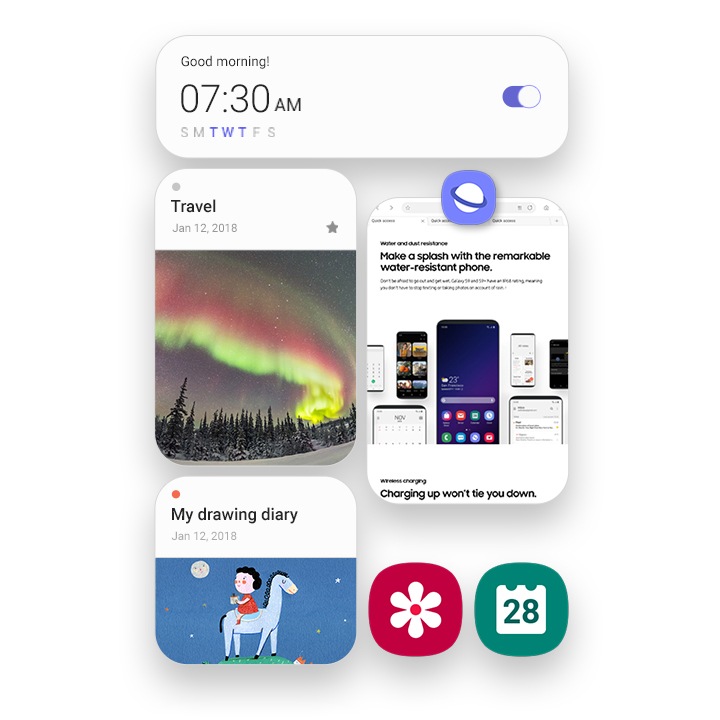 Warranty

12 months manufacturer warranty for the tablet & 6 months manufacturer warranty for in box accessories.
Imported & Marketed By
Samsung India Electronics Pvt. Ltd.
having its Corporate Office at:
6th Floor, DLF Centre, Sansad Marg,
New Delhi - 110001
Country of Origin
India, Vietnam, China, Korea
*Country of origin shall be as mentioned on the Product
Trusted Payment Methods