It's about time
You can see the time on the Lenovo Smart Clock Essential's easy-to-read LED—big, bright, and visible from any angle or across the room. Focused on something else? Just ask, "Hey Google, what time is it?" and the clock will answer you. Also, you can take back time. Check the weather before heading out. Set timers for cooking, or to manage your kids' screen times. Set reminders. Research facts. Add items to your shopping list. Just start with "Hey Google."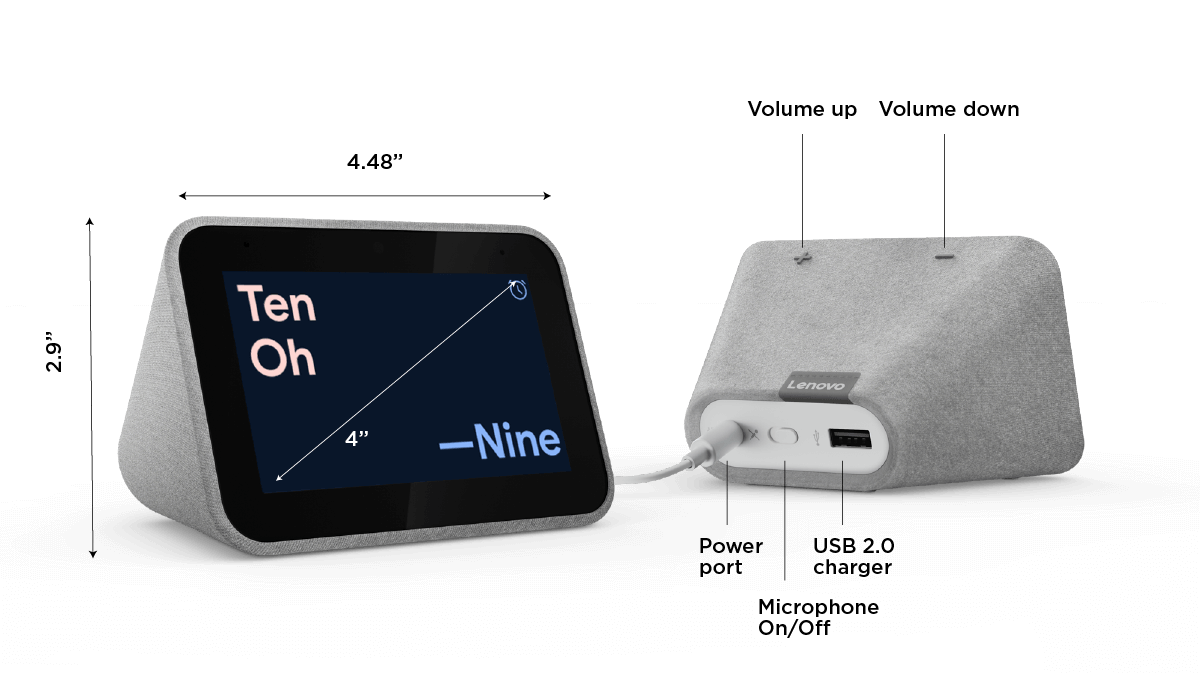 Nighttime companion
A built-in nightlight lets you get up at night without stumbling around or waking up the whole family by turning on the ceiling lights. No more using the light from your phone at night as you head to the bathroom, study, or kitchen. The LED digits are just bright enough to make your surroundings clearly visible, yet dim enough to foster a healthy sleep environment.

The Lenovo Smart Clock with Google Assistant brings you the best of Google all in one place. Featuring a beautiful 4-inch display and hands-free functionality, the Lenovo Smart Clock is the smallest Google Assistant device of its kind. The modern design will complement any bedroom perfectly, offering users a convenient way to control their smart home, set alarms, check the weather, and get a heads up on traffic, all without needing to get out of bed or pick up their smartphone. The Lenovo Smart Clock seamlessly integrates the most essential information needed to start or end any day with just a simple voice command.
The Lenovo Smart Clock Essential is the ultimate smart clock for any room. With its big & bold display, you can check out the time from across the room.
Talk to Google to ask questions, play music, control smart home devices, and more.
This smart clock is here to help you be more productive and take back time. It also features a built-in nightlight, speaker, and microphones.
Specifications
Model Number CD 24501F
Color Gray
Dimensions in cm (WxDxH) 11.39 x 7.92 x 7.50
Dimensions in Inches (WxDxH) 4.48 x 3.11 x 2.95

Weight 328 g
Processor
Amlogic A113X
Display
10.1cms (4) LED
Memory
Audio

3.8cms (1.5) 3W speaker
2 x microphone array
Connectivity

802.11 a/b/g/n/ac 2.4G/5G dual band
Bluetooth®

 

5.0

I/O buttons

Microphone mute toggle
Volume up / down
Play
Alarm

Nightlight
31 lumens
Software
Google Assistant
1. Alarm button
2. Play button
3. Volume up button
4. Volume down button
5. Alarm snooze (anywhere on top area)
6. Built-in nightlight
7. Power in
8. Microphone mute toggle
9. USB charging port
In The Box
Main Product 1U Smart Home Device
Accessories Charging Adapter | USB Cable
Documents Quick Start Guide | Warranty Card
Warranty
12 months manufacturer warranty for the main unit and 6 months warranty for in box accessories.
Imported & Marketed By
Lenovo India Pvt Ltd
RBD Icon, Level, 2, Outer Ring Rd, Doddanekundi
Mahadevapura, Bengaluru, Karnataka 560037
Country of Origin
China